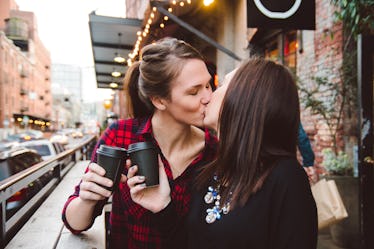 5 Queer Women Reveal How Their First Date With A Woman Changed Everything
I think, in all of our lives, we sometimes hit milestones that we never saw coming. I guess they're what some describe as "aha moments" — those instances at which everything feels flipped on its head and you stop and think, "Oh, this is who I am. This is what I'm supposed to be doing with my life. This is what feels right." After reading or speaking with a handful of women about their first dates with the same gender, it sounds like they were definitely unexpected milestones (in the best possible sense).
As a straight, cisgender woman, I certainly don't want to make any assumptions about what this is like, but I'd imagine it's similar to moving to a brand new city and immediately feeling you've come home. You try something new — something you thought might be cool or fun or interesting —and suddenly find yourself feeling happier and more at ease than you ever thought possible.
These women describe their first date experiences as eye-opening, effortless, and even revolutionary, and each of these stories has lit my heart on fire in the best way.
But I'll let them take it from here. Here's what five queer women had to say about their first date with someone of the same gender. Prepare to melt.