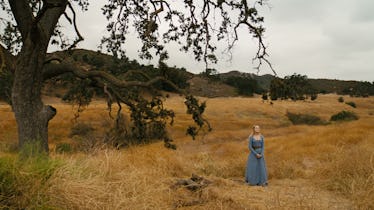 5 Questions About The 'Westworld' Season 3 Finale That Will Keep You Up At Night
HBO
Ever since Westworld's debut in 2016, it's been a show that leaves fans asking questions. Even though the season finales traditionally reveal giant hidden twists before they are over, these are the kinds of answers that lead to more questions. For the first time, the Westworld Season 3 finale did not have had any major mindblowing reveals. But by the time the post-credit sequence was over, fans were left wondering all the same. These questions about the Westworld Season 3 finale will have fans asking the most important of all: When is Season 4 coming?
Warning: Spoilers for Westworld Season 3 follow.
To start, HBO has confirmed the series is renewed for a fourth season. As is par for the course on this series, the announcement didn't give any details. All it showed was an animation of the roman numeral "III" for this season morphing into an "IV."
Still, fans can guess at how long the wait is, looking back at the gaps between seasons so far. Season 1 aired in October of 2016, Season 2 aired in April of 2018, a break of about 18 months. The current season of Westworld began in March of 2020, not quite two years between Seasons 2 and 3. This suggests viewers can expect Season 4 to arrive no earlier than October of 2021, and as late as February of 2022.
As for the questions fans will be asked until then, here are the biggest.