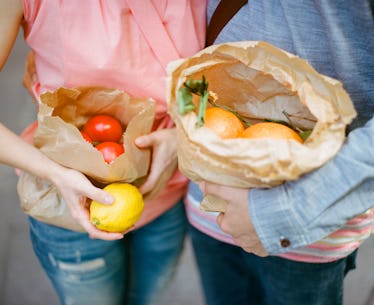 5 Myths About Going Vegan That Sound Believable, But Are Totally False
The food industry is experiencing a major shift these days, as diets are a dying trend (thank the lord), and all-around healthier ways of eating are finally catching on. Viral documentaries like What the Health and Cowspiracy have sparked intrigue, and you may have noticed yourself or your peers either cautiously dabbling in or even diving headfirst into that #veglife. Still, there is a decent number of myths about going vegan that have people impulsively giving into the trend or shunning the lifestyle altogether — and either could be for the wrong reasons.
Nov. 1 is recognized as World Vegan Day and kicks off World Vegan Month as well, according to The Vegan Society. Yes, it's a little ironic that Turkey Day just so happens to share its special time of year with veganism awareness, but I digress.
As someone who grew up in a traditional omnivorous household, I'll be the first to admit that going from meat-eater to plant-based overnight wasn't easy. Committing to a strictly vegan lifestyle is even more difficult, and half the battle is doing the research.
Many people are quick to assume lots of things about vegans, like, for example, that they must be super healthy, Whole Foods-obsessed snobs. While there definitely are pros and cons to the vegan lifestyle, there's good and bad in all ways of living, but you shouldn't dismiss or commit to a culture based on rumors alone.
So, here are a few common myths about going vegan, officially debunked once and for all. Whether you're considering going vegan yourself or have sworn off the lifestyle entirely based on he-said-she-said, you can at least make an executive decision for the right reasons.