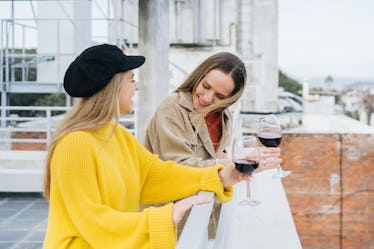 5 Mantras To Recite When You're Crushing On A Friend
If you've ever caught feelings for a friend, you already know it can be simultaneously exciting and weird. In a situation like this, clearing your mind, taking some deep breaths, and figuring out how you're feeling can be essential, and having mantras to recite when you're crushing on your friend in your back pocket is a great way to start. After all, having romantic feelings for a friend is hardly impossible, since there's obviously already a reason you want them to be a part of your life. After all, the best relationships are usually built on a foundation of friendship. But at the same time, crushing on a friend can also be a bit scary and confusing. What if it doesn't work out? Will you lose the friendship completely?
While there is never any guarantee of what the future will hold, sometimes, when it feels right to you, it's OK to take a risk, put your heart out there, and see what happens. You might decide friendship is the best way forward for the two of you, but it's also possible that they feel the same way and your dynamic may change. One great way to start building that confidence and clearing your mind before you decide how you want to proceed is through the power of positive thinking. By using affirmations or mantras that reinforce positive helpful ideas, you might be able to quiet the negative self-talk that's so easy to fall into. Onward!