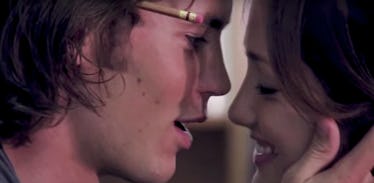 5 Times Lyla Garrity & Tim Riggins Made A Touchdown In All Of Our Hearts
This one's for all of you loyal shippers out there who were rooting for Lyla Garrity and Tim Riggins to be together since day one. There's no doubt about it; this iconic couple made a touchdown in our hearts more than once on Friday Night Lights, and we'll forever be here for these nostalgic moments. Although there are so many snippets of this couple, who have won us over beyond compare, we've put together five Lyla Garrity and Tim Riggins scenes for you to relive, because, why not? And let's be real here: Many of us are still low-key head over heels in love with Tim Riggins.
Of course, power couple Coach Eric Taylor (the real MVP) and Tami Taylor hold special spots in our hearts as well — in addition to Smash Williams, Matt Saracen, Tyra Collette, Landry Clarke, and Julie Taylor. Needless to say, I think it's prime time for us all to invite the girls over and stream a marathon of Friday Night Lights. But for this very moment, enjoy these adorable (and super emotional) moments that will forever have us shipping Lyla Garrity and Tim Riggins.
We all know Tim Riggins said it best: "Texas forever, man."