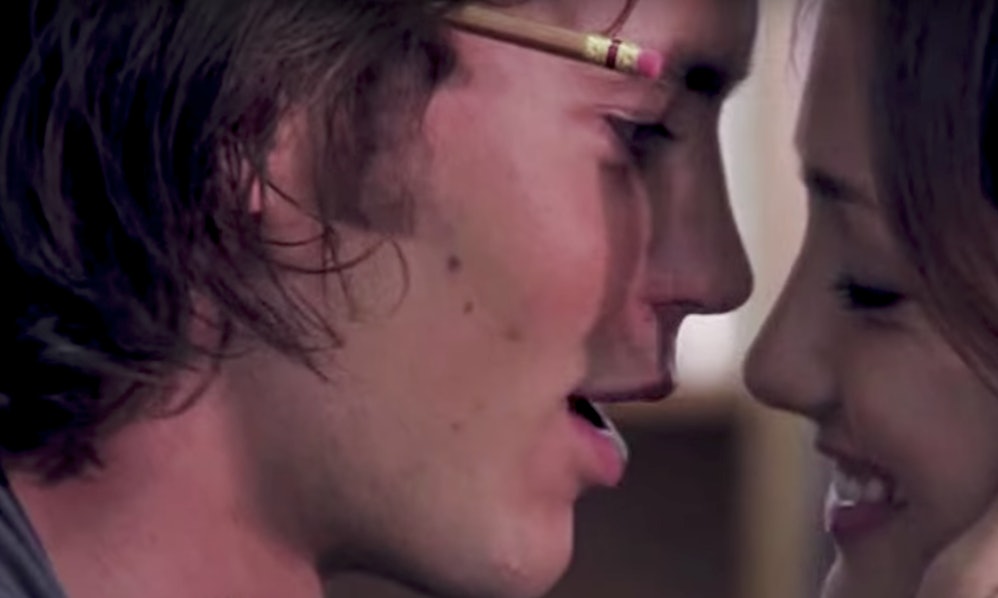 YouTube
5 Lyla Garrity & Tim Riggins Scenes From 'Friday Night Lights' That Made A Touchdown In Our Hearts
This one's for all of you loyal shippers out there who were rooting for Lyla Garrity and Tim Riggins to be together since day one. There's no doubt about it; this iconic couple made a touchdown in our hearts more than once on Friday Night Lights, and we'll forever be here for these nostalgic moments. Although there are so many snippets of this couple, who have won us over beyond compare, we've put together five Lyla Garrity and Tim Riggins scenes for you to relive, because, why not? And let's be real here: Many of us are still low-key head over heels in love with Tim Riggins.
Of course, power couple Coach Eric Taylor (the real MVP) and Tami Taylor hold special spots in our hearts as well — in addition to Smash Williams, Matt Saracen, Tyra Collette, Landry Clarke, and Julie Taylor. Needless to say, I think it's prime time for us all to invite the girls over and stream a marathon of Friday Night Lights. But for this very moment, enjoy these adorable (and super emotional) moments that will forever have us shipping Lyla Garrity and Tim Riggins.
We all know Tim Riggins said it best: "Texas forever, man."
1

When Tim Pushed All The BS Aside And Got Super Real With Lyla
Considering all of the drama in the love triangle that was Jason Street, Lyla Garrity, and Tim Riggins, most of us were emotional wrecks. But we made it out alive, and knew Tim and Lyla would end up together.
When Tim cut the BS and told Lyla, "Be honest with yourself for two seconds, and look me in the eye and tell me you don't feel the way I feel about you," he had us cheering. Yas, Tim, yasss.
2

That Moment When Tim Told Lyla He's "Madly In Love" With Her
Although he portrayed an iconic bad boy persona throughout the series, Tim Riggins could be super sweet when he wanted to be... most specifically with our main girl Lyla. This line will forever be engrained in our nostalgic hearts: "Did I just say I loved you? Did I? ... Cause I'm kinda madly in love with you, and I'll be here no matter what."
We're kind of, sort of, madly in love with you too, Tim Riggins.
3

When Tim Told Lyla She Needed To Go To Vanderbilt
This scene definitely made a small tear in our hearts, but we knew that Tim told Lyla she needed to attend Vanderbilt only because he cared about her and loved her so much. And for that, it was truly a selfless, beautiful moment.
When Lyla debated remaining in Texas with Tim and studying at San Antonio State, Tim's lines definitely cued all the feels: "I'm not gonna be that guy to stop you from achieving your dreams." BRB, grabbing the tissues for a hot sec.
4

When Lyla Told Tim That He Missed Her
Remember when Lyla returned to town and there was a glimmering light of hope for the couple's romance when she hit up his trailer? The duo headed to the bar with Mindy and Billy; Lyla rode the mechanical bull, and when she fell off, she said to Tim, "You miss me?" He responded with, "You have no idea," then kissed her, obviously.
5

When Lyla Asked Tim What He Truly Wanted In Life
I think we can all agree that this episode brought on an insane roller coaster ride of emotions. When Lyla asked Tim what he really wanted out of life, we all instantaneously swooned as he responded, "You." But in our hearts, we knew that as sweet, romantic, and adorable AF as this answer sounded, it wouldn't be enough.
Lyla continued on to ask, "What else do you want?" and Tim responded again with, "You." Lyla and Rigs were pursuing two completely opposite paths, and all of us knew this was the finale of their epic romance. We just truly couldn't fathom the idea of accepting it. Oh, Lyla and Tim, why must you toy with our feels like that?! #Unfair.
Clear eyes, full hearts, can't lose, peeps.