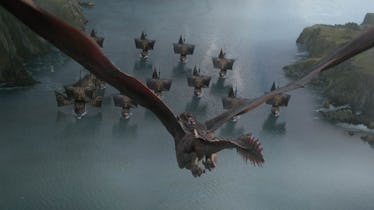 5 'House Of The Dragons' Theories That Will Make Up For The 'GOT' Finale
HBO
The big news in the A Song of Ice & Fire fandom is HBO has chosen to follow up Game of Thrones' end of the Iron Throne with that of its beginnings. The new show, House of the Dragon, starts with the arrival of Aegon and his dragons in Westeros in 2 BC. These House Of The Dragons theories suggest some of what the show might also cover.
House of the Dragon has a 10 episode order. Game of Thrones Season 1 also spanned 10 episodes, covering the whole first book in the A Song of Ice & Fire series, A Game of Thrones. But Game of Thrones had five books of material to go and hoped author George R.R. Martin would finish the next two before they were done. House of the Dragon has much less source material. Fire & Blood spans two volumes, and only one of those is published.
But Fire & Blood covers quite a bit of ground:
"The Targaryen Conquest"
"The Peace of the Dragon"
"The Sons of the Dragon"
"Heirs of the Dragon"
"The Dying of the Dragons"
"Aftermath — The Boy King and His Regents"
Fleshed out, these should provide material to cover maybe five or six seasons. It also frees the new show from having to concern themselves with Martin's schedule. They have plenty to work with, even if Martin never gets around to Volume 2.