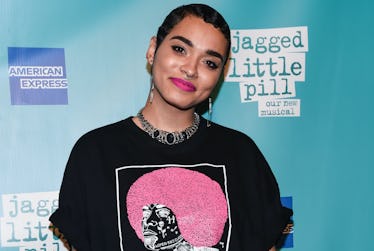 Get To Know The New Star Playing Buttercup In The CW's Live-Action 'Powerpuff Girls'
Daniel Zuchnik/Getty Images Entertainment/Getty Images
Your favorite crime-fighting trio is officially coming back in a new version of The Powerpuff Girls, but this time they're gonna look a lot more lifelike. In fact, two of the actors playing the superheroes, Dove Cameron (Bubbles) and Chloe Bennet (Blossom), are likely very familiar faces. And although Yana Perrault, who plays Buttercup in The CW's Powerpuff Girls, might be a newcomer to the screen, from the look of things, she's just as epic as her beloved character.
Viewers fell in love with the Powerpuff Girls via the animated Cartoon Network series that ran from 1998 to 2005 (as well as a few movies, specials, and a three-season reboot in 2016). The show was created by Craig McCracken and followed Blossom, Bubbles, and Buttercup — three kindergarteners who were accidentally created in a lab by the well-meaning Professor Utonium. The girls showcased superhero powers and with the help of Utonium, they regularly saved their town from evildoers.
Now, instead of just retelling the original story, The CW is actually continuing it. The new live-action installment is set about 20 years after the original series and follows the now-adult Powerpuff Girls as they grapple with the aftermath of their upbringing. In short? They're (understandably) pissed they missed out on a normal childhood since they were busy fighting baddies.
According to Deadline, each of the Powerpuff Girls are handling adulthood differently. For example, Perrault's character, Buttercup (who was the "tough one" as a child), just wants to be left alone and put her Powerpuff past behind her for good. But while her character is fighting for a low-key future, Perrault's star power is on the rise. Here's what you need to know about the actor who's bringing Buttercup to life.