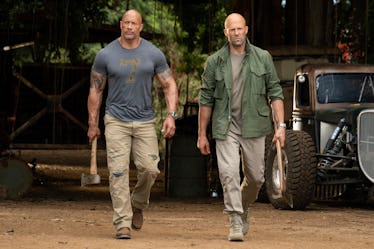 5 Easter Eggs In 'Hobbs & Shaw' That You Probably Missed
Universal Pictures
Fast & Furious Presents: Hobbs & Shaw spent its opening weekend proving that a movie doesn't have to have superheroes or be made by Disney to find box office success. The film brought in over $60 million in its first three days of release, showing the Fast & Furious franchise is only getting bigger and badder with age. But even though the movie is technically it's own spinoff standalone (and could become its own series), that doesn't mean there aren't a few easter eggs in Hobbs & Shaw.
The stars, Dwayne "The Rock" Johnson and Jason Statham, who play Luke Hobbs and Deckard Shaw respectively, are later additions to the original Fast & Furious franchise. Johnson's first appearance was in 2011's Fast Five, while Statham joined in 2015's Furious 7. But it was their chemistry when paired up in 2017's Fate of the Furious that gave producer and writer Chris Morgan the idea to spin the two of them off in their own movie.
While little of the Fast cast turns up in the film, there's at least one reference to past events, as well as more than a few references to Johnson and Statham's careers outside of the franchise.