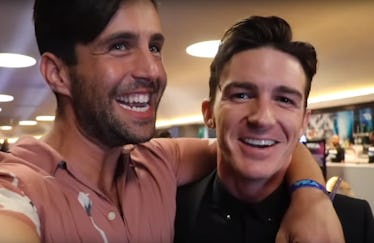 5 Drake & Josh Reunions That Prove They'll Always Be Brothers Through Thick & Thin
Celebrity relationships and friendships are a rare breed. These famous faces have their lives played out in front of the masses, whether it's the good, the bad, or the straight-up shady. In Elite Daily's new series, It's Complicated, we're highlighting the biggest celebrity "feuds" that took over Hollywood and dominated our Sunday brunches for weeks on end. We'll take a deep dive into the lives and social media feeds of our favorite stars and dissect what happened in front of the camera, what went down behind the scenes, and everything you might have missed in between.
It's been over 10 years since Drake & Josh went off the air, but the show's stars are still pretty close. Yup, Drake Bell and Josh Peck are great friends to this day! Even though they've had their ups and downs (like any friendship, really), they're always there for each other when it really counts. Back in 2017, the two stars had a bit of feud after Peck neglected to invite Bell to his wedding. Despite that, though, the two have patched things up and they've even reunited a few times since. So, here are five Drake & Josh reunions that show just how much these guys truly care for one another.
1. March 29, 2014: When They Helped Present The Lifetime Achievement to Drake & Josh Creator Dan Schneider
Back in 2014, Peck and Bell reunited at the Kids' Choice Awards to present the Lifetime Achievement Award to Dan Schneider. Schneider is the mastermind behind Drake & Josh as well as so many other popular Nickelodeon shows like Zoey 101, iCarly, Victorious, and All That. Peck and Bell took the stage alongside other former kid stars (like Ariana Grande and Kel Mitchell) to give Schneider the recognition he deserves.
2. April 17, 2014: When Josh And Miranda Cosgrove Attended Drake's Ready Steady Go! Album Release Party
For those of you who don't know, Bell is a musician and makes some killer music. And when he released his Ready Set Go! album in 2014, his Drake & Josh co-stars were on hand to help him celebrate. Peck and Miranda Cosgrove joined Peck at the release party for the album, proving that those Drake & Josh ties run deep.
3. Feb. 9, 2016: When They Appeared On Grandfathered Together
Before their feud got underway, Bell and Peck reunited on an episode of Grandfathered. Peck was a regular on the show and Bell made a surprise appearance for one episode. Their little reunion (as totally different characters) was pretty awesome and they even made references to iconic Drake & Josh gags from the good ol' days.
You can check it out below:
The episode aired back in 2016, so this little scene was filmed way before the guys had their misunderstanding about Peck's wedding. As you can see from the clip, though, their chemistry hasn't changed a bit and they seem just as friendly on screen as they are behind the scenes. And that sense of brotherhood and camaraderie definitely keeps their friendship going even when there are hiccups!
4. Aug. 27, 2017: When They Hugged It Out at the VMAs
Back in August 2017, when Peck and Bell were pretty much at the height of their wedding-diss feud, they hugged it out at the MTV Video Music Awards. While the moment happened behind the scenes, Peck shared a photo of their brotherly embrace on Twitter.
That hug marked the end of a two-month long feud that started when Peck didn't invite Bell to his wedding in June 2017.
According to Entertainment Weekly, Bell aired out his feelings on Twitter saying, "When you're not invited to the wedding the message is clear… Loyalty is key… ALWAYS remember where you came from."
So, there was definitely some awkwardness that needed to be resolved there. At least the hug helped these guys smooth things over!
5. Aug. 27, 2018: When They Posted An Instagram Video About Josh's Baby
Once Bell and Peck hugged it out at the VMAs, their friendship went on as it always had. In August 2018, Peck revealed that he was going to be a dad, which was pretty exciting news for the former child star. While fans offered their congratulations on social media, it was well wishes from his Drake & Josh pal that really made all the difference.
An Instagram post from Bell's official account showed the two friends joking about what to name the baby. More than that, though, it showed that these two are thick as thieves even after all their squabbles over the years.
It's great to see their friendship still going strong after all these years. So, about that Drake & Josh reboot — can we make that happen, please?