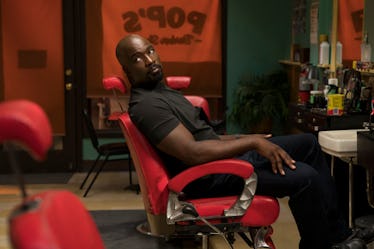 5 Details In The 'Luke Cage' Season 2 Trailer You Definitely Missed
Netflix
With Avengers: Infinity War bringing the Marvel Cinematic Universe's profile to new heights, other MCU movies and shows are trying to capitalize. Ant-Man & The Wasp put out their trailer less than 48 hours after Infinity War broke box office records and shocked audiences into knowing what comes next. Now, over on Netflix, Luke Cage is following suit, arriving with a Monday trailer after Infinity War crossed the $1 billion box office line in record time. The Luke Cage Season 2 trailer is the first we've seen of Harlem's hero since the events of The Defenders last summer, and it seems like he's been busy since viewers last saw him.
Luke Cage Season 2 is Netflix's second release this year after Jessica Jones Season 2 arrived in March. Unlike Jessica Jones Season 1, Luke didn't have a cameo crossover this year into Jessica's world, and it looks like she won't be coming to visit either unless the series is trying to keep things under wraps.
Meanwhile, there are a lot of Luke Cage favorites who will be making an appearance this coming season, including Misty Knight, who was last seen losing her arm in The Defenders.
Check out the trailer to see who else is back:
Here are some of the details you might have missed: