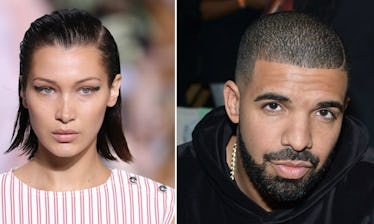 5 Clues That Totally Prove Bella Hadid & Drake Are Actually A Couple
JP YIM & GRANT LAMOS IV / STRINGER
What is happening? Why didn't anyone tell me Bella Hadid and Drake could be a thing? This is big, people. This is huge. Bella Hadid and Drake have entered into the rumor mill, and literally everyone suspects they're dating. Luckily for you, we have been investigating and searching for the tiniest clues to prove this theory, and we've found answers. Elite Daily investigators to the rescue! Below, check out some clues Bella Hadid and Drake are really dating.
Apparently, the rumors all began when Hadid's mom admitted on Watch What Happens Live with Andy Cohen that Drake threw Hadid a twenty-first birthday party. Yes, that's right. Just in case you didn't know, throwing a birthday party for someone is a big deal. All that effort. All that anxiety. It's a lot of work. If that's not enough proof, a source from Us Weekly said the pair is "definitely dating." Get it, Drake! Get it, Bella! Y'all cute.
Many A-list celebrities attended Hadid's birthday party at the Socialista lounge in Manhattan, including Drake (of course), Travis Scott, DJ Martin Garrix, and Bella's sister, Gigi Hadid. That is one star-studded evening. So, what's the real truth? Could the two super stars just be friends, or does it go much deeper? Here are more clues:
1. An Us Weekly source revealed some info, and it's juicy. They said, "Things aren't super serious with them right now, but they're totally together."
Yes! Thank you, source!
2. They were first photographed together on June 19, 2017.
The two were spotted by paparazzi leaving the restaurant The Nice Guy in Los Angeles, which is a favorite among celebrities. Reportedly, a pap captured Hadid getting into Drake's car before the rapper left the restaurant. How sneaky. Why did they leave at different times? Are they trying to hide something? Hmm.
3. Bella doesn't care about The Weeknd and Selena Gomez dating.
Umm... if you stop caring about what your ex is doing, you're doing something right in your life. That's my motto, and it's the honest truth. In another amazing moment from Andy Cohen's Watch What Happens Live, Cohen asked, "Does Bella care that The Weeknd is with Selena Gomez?" to which Yolanda replied, "Not anymore, I think." Oh boy. That means something.
4. An Us Weekly source spoke about their relationship and said, "It's recent and they are trying to keep it super under wraps."
They're not doing the greatest job of keeping it "under wraps," but I get it. They're super famous, and their every move is analyzed. What a life.
5. Hadid's mom said they were "just friends."
In celebrity land, we all know "just friends" means so much more. Although the Real Housewife of Beverly Hills mom was convincing in her interview, it's obvious she was trying to cover up the numerous dating rumors for her daughter. We see right through it, Yolanda!
So, are Hadid and Drake making it work? Is she really over her ex, The Weeknd? After their very public split, Hadid told Teen Vogue in February of 2017,
When I love somebody, I love them with my whole heart... It was my first breakup—or second, next to the horse—and so public. As an outsider, you might think I handled it so well, but it's always in your heart, and you always feel it very heavily.
Does she love Drake with her "whole heart"? I really, really hope so. Drake and Bella need to make it official. We know what's going on.
Check out the entire Gen Why series and other videos on Facebook and the Bustle app across Apple TV, Roku, and Amazon Fire TV.