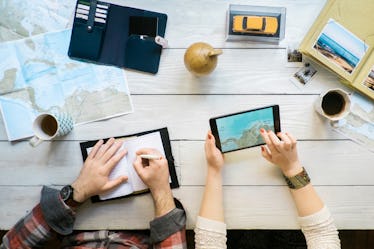 5 Items Under $20 That Will Completely Change The Way You Travel
There's nothing better than packing everything up and taking a spontaneous trip somewhere. Anywhere works, even if it's just an hour away from home. Maybe you're running away from all of this severely uncomfortable weather, or maybe you're visiting an old friend on the other side of the country. But if the travel bug has taken a giant chomp out of your wallet and inspired you to stay put, here are five cheap travel accessories that will totally revolutionize the way you explore the world.
Everyone has somewhat of a weak spot while traveling. Trust me, no matter how well-traveled and wanderlust-y you are, it's totally true. Your biggest downfall might be trying to stay organized, or maybe you have a severe inability to pack light (ahem, mom, looking at you). My major traveling downfall has always been my inability sleep on vacation (literally, so annoying), but I have finally found a few things to help me catch those z's. So make sure to check out some of these hella helpful and inexpensive items, because they'll definitely help make your trip totally easy breezy (for a cheap cost).
Grabbing what you need out of your luggage right when you need it isn't always as easy as Marry Poppins makes it look. So if you're trying to stay a bit more organized during your next trip, make sure to snag a GEARONIC Travel Insert Organizer. It comes in blue and black.
Don't worry, we've all lost our luggage at some point in our lives. It's not our fault that everyone has the same black or blue L.L. Bean duffle that we all got for Christmas and Hanukkah years and years ago. To make your bag stand out from the rest, an "I'm Outta Here" luggage tag is much needed. It's totally cute, and will definitely make your life a lot easier.
If falling asleep somewhere new is difficult for you, I can totally relate. But Otium just came out with these sweet bluetooth ear buds that are noise-cancelling, and they're also sweat-proof, water-proof, and can last up to eight hours before needed a recharge. So plug 'em in and listen to some tunes that remind you of home, or maybe a meditative soundtrack. You'll be out in seconds, and you'll feel totally recharged for your big day of activities to come.
Between looking up directions, Yelping for some dank food, and taking thousands of pics for the 'gram, your phone can run out of juice pretty quickly when you're traveling. This is a major problem if you're in a new city, especially if you're abroad. But this Bonai Apple Lightning Portable Charger can provide your phone with two full charges, and it's the size of a tube of lipstick. Saving your phone from dying is totally worth $17.99, so one of this'll definitely come in handy.
Whether you're going camping and shower access is totally limited, or if you're at the beach and your hair is going in eight different directions (holla), sometimes dry shampoo can be a blessing from the heavens. Luckily, Not Your Mother's came out with a super helpful texturizing shampoo, and it'll totally bring life (and also good smells) to your mane as you explore the world. At only $3.99, it seems like a completely worthwhile purchase, in my book.
Check out the entire Gen Why series and other videos on Facebook and the Bustle app across Apple TV, Roku, and Amazon Fire TV.