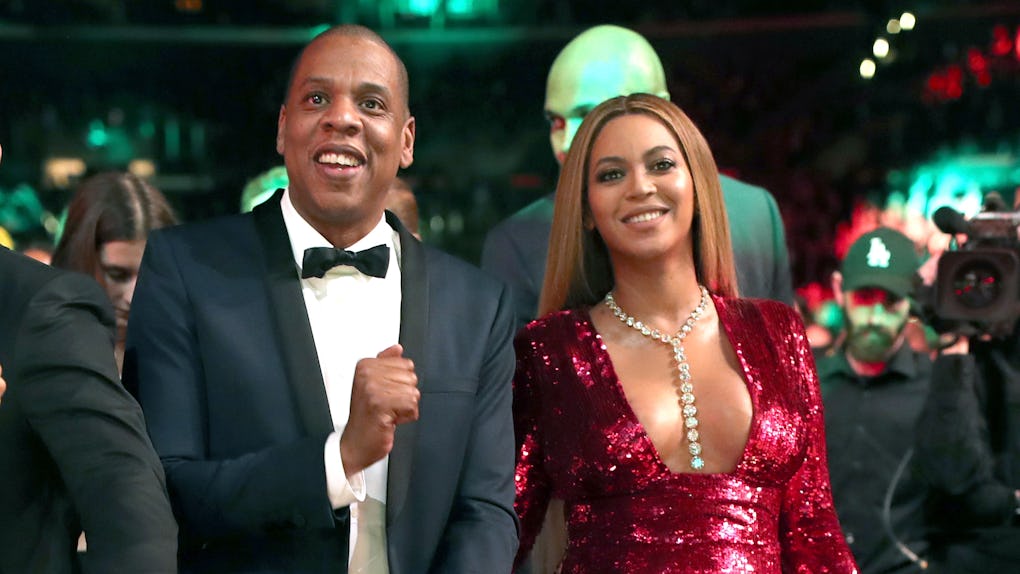 Christopher Polk/Getty Images Entertainment/Getty Images
5 Beyonce Quotes About JAY-Z In Her 'Vogue' Interview That Get So Real About Their Issues
Beyoncé's September 2018 Vogue cover has finally arrived, and OMG it is just as #FLAWLESS as we all knew it would be. The publication gave Mrs. Carter full editorial control over the issue, and because she's a total queen, she selected 23-year-old Atlanta photographer Tyler Mitchell to shoot the cover, making him the first person of color to ever land the gig.
Then inside, Bey got surprisingly deep about stuff she's never discussed before. Like the fact that she had an emergency C-section with Rumi and Sir. She even gave some pretty eye-opening insight into her relationship with her husband, JAY-Z, and these Beyonce quotes about JAY-Z in her Vogue interview will slay you. Although, sadly, there's nothing in there about that infamous Met Gala elevator fight between JAY-Z and Solange. But, I digress. Check out these insightful quotes about JAY-Z!
On how he supported her through her emergency C-section:
"I was 218 pounds the day I gave birth to Rumi and Sir. I was swollen from toxemia and had been on bed rest for over a month. My health and my babies' health were in danger, so I had an emergency C-section. We spent many weeks in the NICU. My husband was a soldier and such a strong support system for me. I am proud to have been a witness to his strength and evolution as a man, a best friend, and a father. I was in survival mode and did not grasp it all until months later."
On how she (and JAY) embraced her changing body after pregnancy:
"During my recovery, I gave myself self-love and self-care, and I embraced being curvier. I accepted what my body wanted to be. After six months, I started preparing for Coachella. But I was patient with myself and enjoyed my fuller curves. My kids and husband did, too."
On how her family's history of complicated relationships shaped her own relationships:
"I come from a lineage of broken male-female relationships, abuse of power, and mistrust. Only when I saw that clearly was I able to resolve those conflicts in my own relationship. Connecting to the past and knowing our history makes us both bruised and beautiful."
"I researched my ancestry recently and learned that I come from a slave owner who fell in love with and married a slave. I had to process that revelation over time. I questioned what it meant and tried to put it into perspective. I now believe it's why God blessed me with my twins. Male and female energy was able to coexist and grow in my blood for the first time. I pray that I am able to break the generational curses in my family and that my children will have less complicated lives."
On her most impactful moment from the On The Road II Tour With JAY-Z:
"One of the most memorable moments for me on the On the Run II tour was the Berlin show at Olympiastadion, the site of the 1936 Olympics. This is a site that was used to promote the rhetoric of hate, racism, and divisiveness, and it is the place where Jesse Owens won four gold medals, destroying the myth of white supremacy. Less than 90 years later, two black people performed there to a packed, sold-out stadium. When Jay and I sang our final song, we saw everyone smiling, holding hands, kissing, and full of love. To see such human growth and connection—I live for those moments."
On where she is now:
"I'm in a place of gratitude right now. I am accepting of who I am. I will continue to explore every inch of my soul and every part of my artistry. I want to learn more, teach more, and live in full. I've worked long and hard to be able to get to a place where I can choose to surround myself with what fulfills and inspires me."