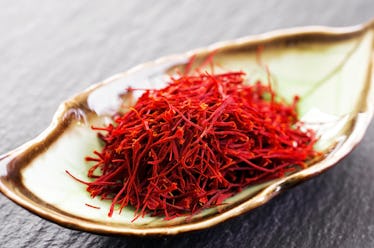 5 Aphrodisiac Spices To Cook With That'll Arouse Both Of Your Sexual Appetites
I'm not someone who loves to cook. The process of preparing food gives me no joy. However, watching people enjoy something I prepared makes all the sweaty (and swear-y) work worthwhile. For me, the pleasure of cooking is all in the reaction, which is why aphrodisiacs are so interesting. After all, the only thing better than getting rave reviews via yummy noises is getting rave reviews via the bedroom. But what if you don't have advanced cooking skills but would like to add a little ~sexy~ to your menu? There are several aphrodisiac spices to cook with that not only add flavor to your dishes, but to your sex life as well.
But what exactly qualifies as an aphrodisiac? And more importantly, do they actually work? According to WebMD, aphrodisiacs are foods that "can suggest sex to the mind, which in turn can help stimulate desire in the body." As How Stuff Works explains, they work in a couple different ways. "There are those that create sexual desire by working on the mind, and there are those that create desire by affecting parts of the body. For example, something that increases blood flow in the sex organs might simulate the feelings of sexual intercourse and have the effect of creating desire. Likewise, there are things that can make our bodies produce more of the chemicals associated with sexual desire." Amazing, right? While there is almost a seemingly endless list of foods and spices that have aphrodisiac qualities, here are five that are actually backed by science and that will literally add some spice to your sex life. If you're an aphrodisiac skeptic, prepare to become a believer.