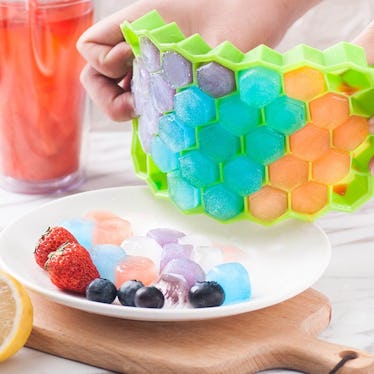 49 Finds On Amazon Under $25 So Brilliant They Should Be Double The Price
Amazon
I'm a sucker for a good bargains. I love happy hours, airfare specials, and spa deals. I can't resist walking in a store when I see clearance signs plastered on the windows. I am overcome with joy when Amazon Prime day rolls around. I have even been known to brave the crowds on Black Friday. But here's the thing: I don't go wild for something just because it's a deal — whatever it is I'm buying actually has to be good. And all these finds on Amazon under $25? They're not just good — they're brilliant.
Some of the items are problem-solvers — like the cut-resistant gloves that protect your hands while you're slicing veggies or meat. Other products are innovative — like the speaker that hooks up to your smartphone. And others? They're economical versions of more expensive (read: overpriced) products, like a makeup artist-worthy eyeshadow palette with 35 shades.
Oh, and, speaking of deals — Amazon Prime has two-day shipping, and it's (ahem) free. (Which is oh-so-much-better than paying $12 for shipping on a $25 item.) So go ahead and browse through these items with the full confidence of knowing you're getting a bargain — without getting gouged by shipping fees at checkout.