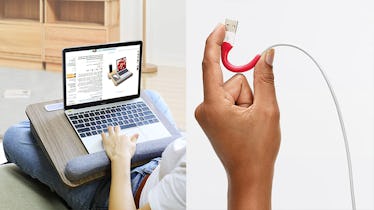 45 Handy, Highly Recommended Products We Regret Not Buying Sooner
Amazon
When it comes to spending money wisely, you can't go wrong buying handy products on Amazon. But what does "handy" even mean? For one, it'll be something you find yourself reaching for on a daily basis. And two, it'll he helpful in one way or another. Finding these sorts of products, however, isn't necessarily easy — unless you keep scrolling through this list.
Not only have I selected a variety of handy products you'll use on the regular, but each one is also very affordable. I'm talking less than $40 for nearly everything here — and that's including the smart water bottle. It glows once every hour as a reminder to take a few sips, while the Bluetooth speaker in the base lets you jam out no matter where you are. But if you're already great at staying hydrated, there's also a sleek alarm clock with a wireless charger built into the top — a must-have for anyone who forgets to plug in their phone overnight.
Don't be surprised if you feel a tinge of regret after you take a deep dive into this list — these handy Amazon products are so useful you'll wish you'd bought many of them sooner. Keep scrolling for some of my favorites.
We only recommend products we love and that we think you will, too. We may receive a portion of sales from products purchased from this article, which was written by our Commerce team.