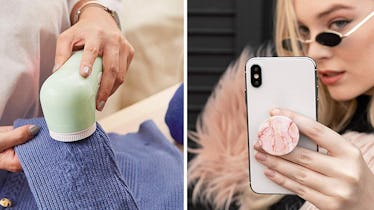 43 Legitimately Brilliant Things On Amazon You'll Wish You Bought Sooner
Amazon
Sometimes, just hopping on Amazon stresses me out. There are literally millions of items to choose from, and even if I think I have a good idea of what I want, there always seems to be more brilliant Amazon products popping up everyday that could be totally life-changing. It's definitely overwhelming.
That said, there are a few tricks to finding super helpful products that will save you time and money. The first is to pay attention to the little things that bug you throughout the day, then search for a solution on Amazon. For example, when I kept losing my phone to that black hole gap between my car seat and console, I searched on Amazon and found a genius seat gap filler. Problem solved.
Another tip is to think about how you can save time, even in small ways. Let's face it, minutes eventually add up to hours, so even shaving a few extra minutes off your day is a major deal. If you's love to save some time cooking dinner every night, search for helpful kitchen tools, like an instant chopper that can handle every food from cheese and chocolate to meat and makes meal prep a breeze.
If you aren't sure where to start, I've got you covered. Check out these brilliant and useful products you'll be so glad you finally found.