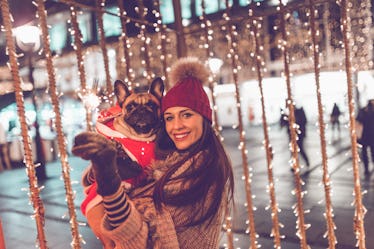 40 Magical Captions For Your Rockefeller Center Christmas Tree Pics & City Snaps
From the vibrant, bright lights and grand skyscrapers, to the glam rooftop lounges and trendy AF hole-in-the-wall restaurants, The City That Never Sleeps is truly a place where dreams are made. Once the holiday season rolls around, New York City transforms into the winter wonderland straight out of a fairy tale. And of course, you cannot forget to hit up the most essential Christmas icon in the city: the Rockefeller Center christmas tree. If you're attending the tree lighting on Wednesday, Nov. 29, or you're planning on seeing the exquisite site another time during the season, you'll need some Instagram captions for Rockefeller Center Christmas Tree pics that truly encapsulate all the magical feels.
There's something extra dreamy in the air as apartments and lampposts are decked in the most festive decor, and stores on every corner are adorned with glitter and gold. The Saks Fifth Avenue holiday window displays never fail to make our jaws drop, and grabbing hot chocolate with the girl crew to hit up Wollman Rink in Central Park is a staple of the season. Oh, and if spiked eggnog is your jam (duh), a pit stop at the most festive restaurant in the whole city, Rolf's, is seriously necessary.
Break out your boujee jackets, ladies, because 'tis the season for prime photo shoots with the beautiful holiday decor. I mean, if you didn't snap a pic for the 'Gram, did it really even happen?
When you're checking off your holiday bucket list in the city this year, don't forget to take a stunning picture with your mains in front of the Rockefeller Center tree, for your followers to have the FOMO feels about. Happy holidays, all. May your season be especially merry and oh-so-lit with these captions.
1. "Dream big, sparkle more, shine bright." — Unknown
2. "Don't get your tinsel in a tangle." — Unknown
3. "Christmas is too sparkly… said no one ever." — Unknown
4. "Believe in the magic of the season." — Unknown
5. "All the jingle ladies." — Unknown
6. "Feelin' frosty." — Unknown
7. "This isn't a fairy tale. It's New York City." — Alex Flinn
8. "'Tis the season to sparkle." — Unknown
9. "Sleighed it." — Unknown
10. "Fairy lights on winter nights." — Unknown
11. "I'd melt for you." — Unknown
12. "Me everyday: Slay. Me in December: Sleigh." — Unknown
13. "Up to snow good." — Unknown
14. "The tree isn't the only thing getting lit this year." — Unknown
15. "All of the lights." — Kanye West
16. "Leave a little sparkle wherever you go." — Unknown
17. "There's so much beauty when your eyes lay lost in all the city lights." — Motionless In White, "City Lights"
18. "All is calm, all is bright." — Bing Crosby
19. "Glitter is the new black." — Unknown
20. "Travel light, live light, spread the light, be the light." — Yogi Bhajan
21. "All I see is magic." — Unknown
22."When in doubt, add more sparkle." — Unknown
23."Light up the night, wild one. Your smile is going to save someone's life." — Erin Van Vuren
24."Oh Christmas lights, keep shining on." — Coldplay, "Christmas Lights"
25."You can never wear too much glitter." — Jane Lee Logan
26. "Sparkle and twinkle as often as possible." — Jane Lee Logan
27."The jolliest bunch of [elves] this side of the nuthouse." — National Lampoon's Christmas Vacation
28."May you never be too grown up to search the skies on Christmas Eve." — Unknown
29."Where the treetops glisten and children listen. To hear sleigh bells in the snow." — Bing Crosby
30. "Always jingle all the way. Nobody likes a half-assed jingler." — Unknown
31. "It's not what's under the Christmas tree that matters, it's who's around it." — Unknown
32. "There is something in the New York air that makes sleep useless." — Simone de Beauvoir
33. "This is the city that I love." — Unknown
34. "Walking in a winter wonderland." — Felix Bernard
35. "Hello, New York. You're looking gorgeous today." — Unknown
36."One belongs to New York instantly, one belongs to it as much in five minutes as in five years." — Tom Wolfe
37. "She who leaves a trail of glitter is never forgotten." — Unknown
38. "City lights will guide you home." — Greyson Chance, "Sunshine & City Lights"
39. "Wanderlust and city dust." — Unknown
40. "It's the most wonderful time of the year." — Andy Williams