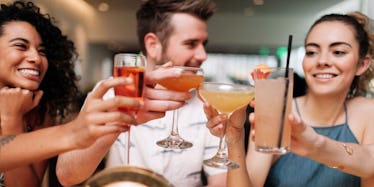 4 Major Ways That Joining A Sorority Affects Your Love Life In College
At college, there are many opportunities to meet people to date, as well as events you could bring these dates to. Dating while in a sorority, though, varies from how non-Greek afilliated students date. In a sorority, you have formal events you can bring your partner to, mixers where you can meet frat guys and sorority girls, and even get serious by getting lavaliered — a promise ring of sorts where your significant other gifts you with their organization letters. I personally was in a sorority in college, but dated someone who was not in Greek life. I felt like, in that sense, I had the best of both worlds: I had an evergreen date to sorority formals, but wasn't entangled in fraternity hookup drama.
While some not involved in Greek life may think it has plenty of perks (trust me there are many!), it can also feel restrictive at times when it comes to dating. Depending on which sorority you're involved in, you might feel pressure to maintain good relations with other members of certain fraternities or sororities — including by befriending, hooking up with, and even dating members.
Here's how dating was like for some women in Greek organizations.