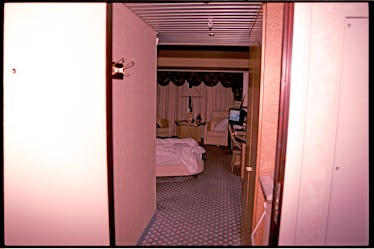 4 'Unsolved Mysteries' Theories About "Jennifer Fairgate" That'll Make You Think
Netflix
Most of the cases in Unsolved Mysteries are relatively straightforward, even if they do not have satisfactory conclusions. A well-loved, church-going mother wound up dead after services. A child murderer escaped from jail, and through luck and timing, has stayed one step ahead of the law. But then there's "A Death In Oslo," in which nothing about the case, from the victim's identity to how she died, makes sense. These theories about "Jennifer Fairgate" from Unsolved Mysteries are a reminder that anything could be possible when there's so little to go on.
Here's what's known about the case at hand: On Wednesday, May 31, 1995, a young woman in her 20s somehow checked into the most exclusive hotel in Norway without showing ID or a credit card. She signed the register using a false name (Jennifer Fairgate), a false address, and a false phone number, the latter two of which were Belgian. From tracking her key card and hotel staff reports, she appeared to have spent nearly all her time out of the hotel over the next two days.
On Saturday, one of the people working behind the hotel desk came upon Fairgate's account and realized there was no card on file. She sent a security guard up to the room, 2805. The security guard went upstairs, knocked on the door. Seconds later, there was a gunshot.
According to reports, the security guard ran downstairs and raisef the alarm. It took 15 minutes for anyone to return. When hotel staff finally got the door open — which was double locked from the inside — open, the woman was dead on the bed, with a gun — which she was somehow holding backward — in her hand.
The rest, as they say, remains a mystery. Here are the big theories about who this woman was, and what happened to her: