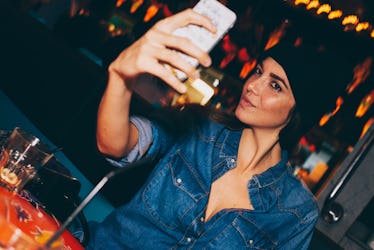 4 Real AF Texts To Send Your Winter Cuff If You Want To Keep Seeing Them
Spring is officially here, which means you can finally come out of hibernation and venture back out into the world. The question is, now that you can leave the house again, do you still need the person you cuffed up with during winter to ride (literally) out the spring with? After all, it's tradition to un-cuff as soon as the weather permits, so there's a good chance that when you first got together in chillier times, it was just a seasonal love affair. Normally around this time, you'd be thinking of texts to send your winter cuff to break things off, but what if over the cold and wintery months you caught something more than your annual cold? This year you caught feelings. Gasp!
While you're going to have to start shedding some layers of clothes as spring temperatures rise, it doesn't mean you have to shed your cuff, too. However, it does mean that it's time to get real and tell them what you're feeling. So, if you want to turn your winter romance into a spring fling (and beyond), but don't feel comfortable saying it face-to-face, here are some real AF text ideas to help clue your winter cuff into exactly what you're feeling.