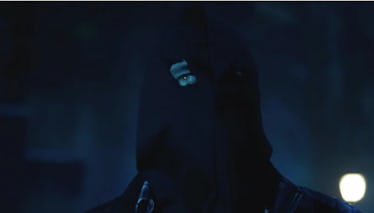 4 'Riverdale' Season 2 Finale Theories That Will Make You Scream & Cry At The Same Time
The CW
I think my heartbeat is still trying to slow down after that crazy episode of Riverdale, which not only revealed the identity of one of the Black Hoods, but also tossed us a major cliffhanger about Jughead's fate. "Judgment Night" definitely revved up fans' anticipation for next week's season finale, but it also left them with big questions about what Season 2's final chapter could answer. In addition to wondering about the other Black Hood and whether Jughead is OK, there's also the debate of what Hiram Lodge is up to. With these concerns in mind, we've gathered four Riverdale Season 2 finale theories that will inevitably destroy fans' emotions.
Spoiler Alert: Spoilers for Riverdale's "Judgment Night" episode follow.
Online fans have taken on the mission of picking apart the finale's teaser for any possible clues. but it's no easy task. Even though viewers had caught onto the possibility of Hal Cooper being the Black Hood before "Judgment Night" aired, predicting the finale's events is anyone's game, and there's plenty out there to consider before next Wednesday. So, what possibilities should we keep in mind for the finale "Brave New World"? Reddit and Twitter users are here to help us out with the strongest theories of what Season 2's last episode will bring.