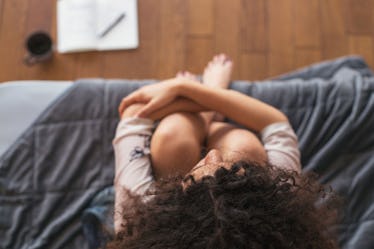 4 Common Habits That May Be A Red Flag For Your Mental Health
Conversations surrounding mental health often focus on identifying what a mental health struggle feels like, but do you know what a mental health struggle looks like? No two mental health issues are the same, so it makes sense that these sorts of experiences wouldn't all look the same, either. But there are some definite red flags for your mental health to watch out for across the board, and they might just be subtle enough to miss if you aren't careful. The problem is, on the surface, these common habits might genuinely seem like harmless behaviors you picked up out of the blue. But mental health conditions have faces in the same way that they have names, so it's important to familiarize yourself with the signs. Otherwise, you might put yourself at the risk of suffering longer, not to mention more severely, as time goes on.
While the public perception and understanding of mental health is slowly but surely undergoing an important transformation, the fight to end any stigma surrounding this topic is still a work in progress. It's not easy to discuss mental health in any capacity, let alone fully understand the various psychological struggles that people can go through, but that doesn't mean these things should ever be pushed under the rug. Rather, it means it's that much more important to not just define and discuss what mental health truly means, but to also identify what mental health struggles actually look like.
Mental health is synonymous with mental wellness, and it's something everyone struggles with from time to time. To put it into perspective, Carl Sheperis, PhD, NCC, CCMHC, MAC, ACS, LPC, interim president and CEO of the National Board for Certified Counselors, Inc. and Affiliates, recommends thinking of maintaining mental health in the same way that you would maintaining your physical health. For example, let's say it's Jan. 1, and you've got that new-year-new-me glow about you as you sign your very first gym membership contract. You have every intention of working out at least three times a week, and you start off strong, but eventually, your workouts grow inconsistent. "With mental wellness, people do the same thing," Sheperis tells Elite Daily. "They might start by working on some daily mindfulness exercises with the intention to achieve better life balance, but the practice takes a backseat when life gets busy."
When life gets in the way, it's easy to push any focus on well-being to the side — but the second that happens, that's when your mental health can start to suffer, says Sheperis. Depending on how you cope with stress, a busy schedule that leaves little to no wiggle room for "me time," and just your general day-to-day regimen, the signs that your mental health is suffering might take the shape of common, everyday struggles, such as a lack of sleep, anxiety, or loss of interest in going out with friends. " When these issues begin to have a significant effect on overall functioning, then they are more serious and may be signs of mental illness," Sheperis explains. But until you start noticing this kind of shift, subtle signs are the ones to look out for.
Below are a few tell-tale signs your mental health could be struggling. If you're picking up on any of these symptoms, don't hesitate to reach out for professional help, and be sure to check out the National Institute of Mental Health, MentalHealth.gov, and MHResources.org for more information.