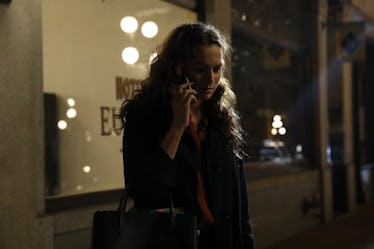 These 'A Million Little Things' Theories About Jon & Ashley Could Explain Everything
ABC/Jack Rowand
This post contains spoilers for A Million Little Things. Welp, we can't say we didn't see that coming. At the end of its Dec. 12 episode, A Million Little Things finally confirmed that Jon and Ashley explored some kind of romantic relationship before his death. Now knowing that both Jon and Delilah were seemingly unfaithful to each other, we need to delve into what exactly happened with Jon and his assistant and whether it affected his decision to kill himself. These Jon and Ashley Million Little Things theories are not all plausible, but we have to start somewhere, right?
After attempting to prevent the Dixons from learning about Jon's darker business, Ashley (Christina Ochoa) failed in Dec. 12's "Christmas Wishlist," watching from her car as Delilah (Stéphanie Szostak) was ordered to vacate her house sometime in the next 21 days. In the episode's closing moments, she arrived at the same apartment building we've seen her at before, which may or may not be where she lives. With a handful of overdue bills in tow, Ashley thought about the first time Jon (Ron Livingston) brought her there and said, "I'm not the man everyone thinks I am." Before Ashley closed the apartment door during that visit, she kissed him, but we don't know whether this was the first time she initiated a romantic gesture with him.
The next episode's promo promises that answers about Barbara Morgan and the term Rutledge will come soon, and Ashley will inevitably be involved in these reveals. We can also hopefully expect to see more about Jon and Ashley's relationship. If the show's writers ever hit a roadblock, they can certainly take a note from some of fans' wildest theories about the two characters, which are seen below. What's your prediction about Jon and Ashley?