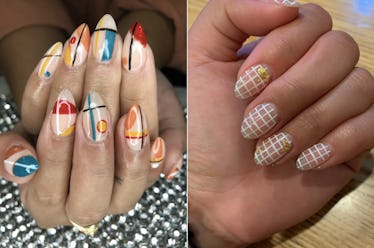 4 Instagrammable Nail Salons In LA That Were Made For The Perfect #Nailfie
I've always loved getting my nails done. Having an hour or two when I can put my headphones in, not touch my phone, and spend quality time just pampering myself is a true luxury in my life. Each time I go to the nail salon, I leave feeling a little lighter and a little more glam. Because I love nails so much, I'm a huge fan of the fact that nail art is trendy. When I moved to LA, I made sure to find the most Instagrammable nail salons in LA so I could perfectly nail a gorgeous #nailfie every single time.
Finding a nail salon that speaks to your vibes is one of those things that's invaluable, especially for people who frequently sit in the salon chair. You have to find a manicurist who understands what you want, whom you trust to give you an epic manicure so you leave looking and feeling fabulous. Plus, the ambiance of the salon has to feel right so you can get comfortable sitting in the chair for a while. (Good nail art takes time, you know.)
When I moved to LA from NYC, I was worried I wouldn't find a nail salon I loved as much as my NYC one (Shoutout to Akiko Nails.), but now that I've discovered these spots, I know I'll always have somewhere to get my nails done in my new home sweet home. If you're a nail art lover who's headed to LA, or you live here and are in search of a new salon, check out one of these four places.