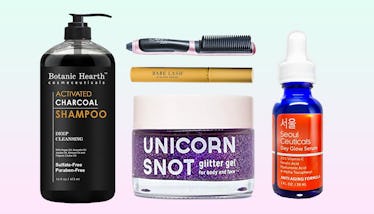 39 Brilliant Beauty Products On Amazon That Are So Genius, They'll Leave You Shook
Amazon/Bustle
What's better than stocking up on the latest trendy beauty products? Stocking up on totally amazing, next-level, trendy beauty products. This list features some incredibly brilliant beauty products that are so genius, they'll leave you shook. Real shook.
On Amazon, there are incredible skincare, beauty, and hair products that are cult-favorites, new or innovative items on the market, or tried-and-true classics. If you haven't tried them yet, you should; they certainly aren't the run-of-the-mill products that you can find in a drug store. These are the hard-to-find hidden gems that you've probably never heard of, but once you try them, you'll recommend them to everyone. They're the creme de la creme of the most genius beauty products, if you will.
From top-of-the-line yet affordable Korean sheet masks, to shampoo made from activated charcoal and ACV; from a deeply hydrating skin oil derived from trees in Southern Africa, to a serum made of snail mucus, these cover all the bases and are the most top-rated and distinctive products that use safe and beneficial ingredients. If you're looking for a new product to add to your beauty arsenal, get ready to see the number in your shopping cart tick up, up, and away!