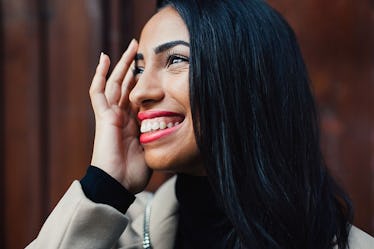 32 Perfect Instagram Captions For Your Fall Plandids, Because We're All Basic AF
Fall is the best time of year. Don't try to fight me on this one, because it is an argument you will never win. Let me break it down for you. Fall is when the leaves are the prettiest they'll be all year, our favorite Halloween candy goes on sale, Mom's sweet potato casserole makes a highly-anticipated comeback on Thanksgiving, and the weather is absolutely perfect for layering all of your cozy fall sweaters. In fact, this is mostly why fall is just so dang fabulous. It's truly the perfect time of year for your basic AF fall pictures. And of course, you'll need some options when it comes to fall Instagram captions for plandids.
There's no shame in a good plandid. We've all been a little basic (or a lot) from time to time, and having fun pictures is nothing to be ashamed of. Embrace the basic, girlfriend! So whether you're planning a photo shoot in the fall leaves, or rocking that new outfit in the pumpkin patch, these 32 captions are the perfect options for your pictures.
1. "There is always a reason to smile. Find it." – Unknown
2. "Smile big. Laugh often. Never take this life for granted." – Unknown
3. "Why be moody when you can shake yo booty?" – Unknown
4. "If you want to give light to others, you have to glow yourself." – Thomas S. Monson
5. "She's a badass with a good heart, soft but strong, unapologetic and honest. She's the type of woman you go to war beside, the type of woman you marry." – R.H. Sin
6. "If you're sad, add more lipstick and attack." – Coco Chanel
7. "Grow through what you go through." – Unknown
8. "Smile a little more, regret a little less." – Unknown
9. "Light up the night, wild one. Your smile is going to save someone's life."
– Erin Van Vuren
10. "Sunshine on my mind." – Unknown
11. "Being happy never goes out of style." – Lilly Pulitzer
12. "I just want to spend the rest of my life laughing." – Unknown
13. "It's the little things in life." – Unknown
14. "Be happy in the moment, that's enough. Each moment is all we need, not more." – Mother Teresa
15. "It's important to remember that we all have magic inside us." – J.K. Rowling
16. "I try not to laugh at my own jokes, but we all know I'm hilarious." – Unknown
17. "Be known for your kindness and grace." – Unknown
18. "Be always blooming." – Unknown
19. "I like people who smile when it's raining." – Unknown
20. "Use your smile to change the world; don't let the world change your smile." – Unknown
21. "Failure is a bruise not a tattoo." – Jon Sinclair
22. "Stay focused and extra sparkly." – Unknown
23. "Document the moments you're feeling most in love with yourself – what you're wearing, who you're around, what you're doing. Recreate and repeat." – Warsan Shire
24. "Keep it clean, eat your greens, don't be mean, in 2017." – Unknown
25. "Stay close to people who feel like sunshine." – Unknown
26. "Life is tough, my darling, but so are you." -- Stephanie Bennett-Henry
27. "I'm not anti-social, I'm just not user-friendly." – Unknown
28. "What if I fall? But oh, my darling, what if you fly?" – Erin Hanson
29. "She remembered who she was and the game changed." – Lalah Delia
30. "Choose kindness and laugh often." -- Unknown
31. "Of this be sure: you do not find the happy life. You make it." – Thomas S. Monson
32. "Wherever you are, be all there." – Jim Elliot