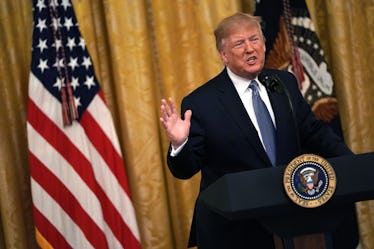 Donald Trump Has Joked About Not Leaving Office More Than Once
Alex Wong/Getty Images News/Getty Images
Say what you want about President Donald Trump, but you can't deny that he's one confident president. Since his inauguration in January 2017, the president has said time and time again that he's fixing the United States' problems and he's confident he'll win re-election in 2020. Well, even if Trump loses the presidency come the next election cycle, there may be a chance he won't leave the White House willingly — at least, that's what he's "joked" about. Just take a look at three times Trump joked about not leaving office and see for yourself.
The 22nd Amendment to the U.S. Constitution, ratified in 1951, limits presidents to only two terms in office, but that hasn't seemed to stop Trump from fantasizing about more years in the White House. Since winning the 2016 presidential election, Trump has consistently patted himself on the back for his achievements while in the White House. In fact, in January 2019 he claimed that he's one of the "greatest" and "most successful" presidents in United States history. In order to back up this bold statement, Trump has cited work to increase job opportunities, make the economy stronger, and accomplish better relations with foreign nations.
Trump may be confident that he'll be re-elected in 2020 due to his past few years in the White House, but even with more than a year to go, the upcoming race is getting more and more heated. It's too early to tell whether Trump will win or lose, but judging by the president's remarks in the past, he may not leave the Oval Office without a fight.