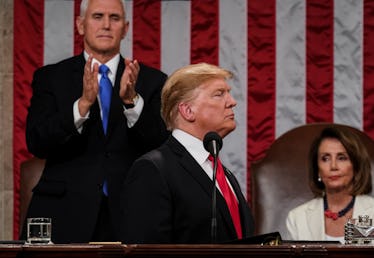 These Photos Of Donald Trump & Nancy Pelosi Explain A Lot About Their Relationship
Pool/Getty Images News/Getty Images
If we can all ever agree on one thing in this life, it's that President Donald Trump and House Speaker Nancy Pelosi (D-California) aren't exactly BFFs. Though they seem to keep things cordial (for the most part, at least), there have been some moments that suggested that it might all be an act. With that, let's take a look at these three photos of Donald Trump and Nancy Pelosi that truly lay out their relationship.
That is, if you can even call it a relationship. I mean, Pelosi herself isn't even sure where she stands with the president. When asked about her ties with Trump in a March 11 interview with The Washington Post, Pelosi said, "Is there a relationship?" If that doesn't speak volumes, maybe some of their comments about each other will. For instance, Trump has called for Pelosi to be investigated and taken shots at the party she's affiliated with, tweeting in January 2017 the Democratic party doesn't "work." Representatives for Pelosi did not immediately return Elite Daily's request for comment on his remarks. Pelosi, on the other hand, has said Trump is unfit for the White House and questioned his manhood. (Yes, Pelosi, who often takes softer tones, really went there.) Elite Daily reached out to the White House for comment or response, but did not bear back.
They say that a picture is worth a thousand words, though, so let's take a closer look at a few photos of these two.