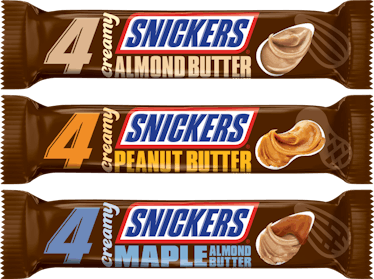 Snickers Is Releasing 3 Brand New Creamy Bars That You'll Want To Try ASAP
Snickers
October is officially here, everyone, and you know what that means: it's time to stock up on your candy. Whether you're passing out goodies to trick or treaters or just saving those sweets for yourself, these three new creamy Snickers bars are the perfect way to satisfy any sweet tooth, but unfortunately we'll have to wait until next year. Can 2019 get here already?
On Monday, Oct. 1, announced that the company would be releasing three new delicious flavors to its already impressive candy roster: Almond Butter, Peanut Butter, and Maple Almond Butter. Hello yes, I'll take all three. Even though I have no doubt that all of us are ready to head to the grocery store right now, sadly we'll have to wait a few more months. According to Snickers, these new flavors will be hitting stores beginning January 2019. So, start working on that delayed gratification people.
I don't know about y'all, but I never imagined that Snickers could get any better. From its creamy caramel filling to the crunchy chocolate coat, it was basically already candy royalty. However, leave it to this company to one up its already perfect product. In a press release shared with Elite Daily, Snicker's Brand Director Josh Olken says the company thought of introducing these new flavors after hearing feedback from their loyal customers. Olken says,
For nearly a century, fans have made the classic [Snickers] bar an icon with its satisfying layers of nougat, caramel and signature peanut crunch. We listened to our consumers' desires for new tastes like almond butter and paired it with an innovation on texture. With Creamy [Snickers] bars, our fans can discover new tastes, and can now get [Snickers] satisfaction in both crunchy and smooth.
I have to admit, this announcement is pretty bittersweet to me (pun definitely intended). On one hand, I can't wait to get my hands on these three new delicious and exciting flavors, but on the flip side, I can't believe I have to wait months until I enjoy them. Lucky for all of us, there's plenty of classic Snickers bars to snack on while we wait.
These new flavors are definitely exciting news, but this isn't the first time Snickers has unveiled a twist to its classic candy bar. In June, the candy company announced three new flavors to the much beloved Snickers, and that includes Espresso, Fiery, and Salty & Sweet. As a caffeine junkie, I was completely buzzed about the espresso-flavored Snickers. After all, espresso is amazing and so is Snickers, so it only made sense that these two products would match perfectly with each other. To kick off this exciting news, Snickers put together an "escape room-themed" New York City pop up where each challenge was related to the flavors. Leave it to Snickers to unveil exciting new products in the most fun way possible.
As 2018 quickly comes to a close, at least there's something we can definitely look forward to come the beginning of 2019. If you need me, I'll be waiting at the grocery store until then.