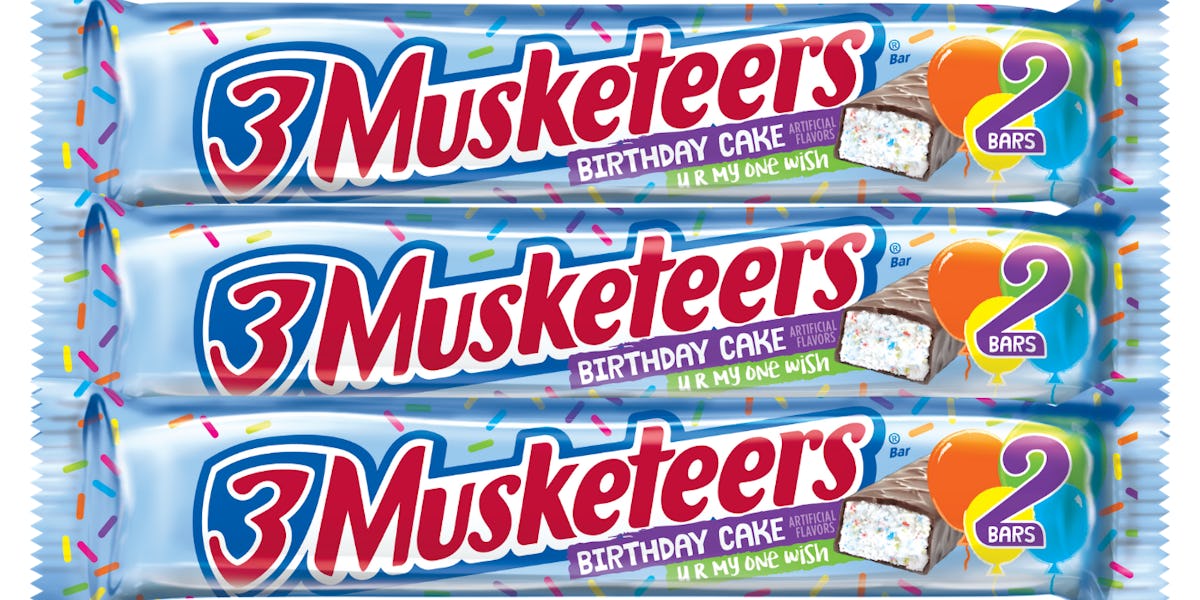 3 Musketeers Is Releasing A Birthday Cake Candy Bar That You Need To Try ASAP
3 Musketeers
It's been a hot minute since 3 Musketeers released a new flavor of their signature nougat-filled candy bar. Not that there's anything wrong with the current chocolate flavor, but sometimes change is good. In this case, it's great and totally delicious. 3 Musketeers' new Birthday Cake Candy Bar is a celebratory sweet treat that is going to make your mouth water with delight.
It's been six long years since 3 Musketeers rolled out a new flavor, but the times are thankfully changing. The candy company is dropping a delicious new Birthday Cake flavor and it is already available at select stores nationwide. More on that in a minute. Now, you've probably had other Birthday Cake-flavored candies and treats before, but I can assure you that there is nothing quite like this one from 3 Musketeers. Staying true to its signature nougat filling, the 3 Musketeers Birthday Cake Candy Bar features a vanilla-flavored nougat filling, an array of colorful sprinkles that are covered with a rich, melt-in-your-mouth milk chocolate, according to 3 Musketeers. If that doesn't excite your taste buds, then I don't know what will.
The birthday cake flavor is a growing trend and one that we knew would be a perfect center to the iconic 3 Musketeers bar," 3 Musketeers Brand Manager, Rosemary Nocito, said in a press release. "Our mission is to spread small moments of joy with our fans and this latest flavor brings that celebratory feeling to the everyday."
Right now, you can stroll into any Walmart location across the country and purchase a 3 Musketeers Birthday Cake Candy Bar. So, if you're in search of an extra delicious Halloween treat, look no further than the 3 Musketeers Birthday Cake Candy Bar. But don't worry, you can enjoy this decadent and rich treat for a while. While the Birthday Cake Candy Bar is only currently available at Walmart, it will be hitting other national retailers in January 2019. Lucky for you, there are more than 5,000 Walmart locations nationwide. Suffice to say, you should have no trouble finding one of these bad boys.
It's unclear if the 3 Musketeers Birthday Cake Candy Bar will be sticking around for good or just for a short period of time. Elite Daily reached out to 3 Musketeers to confirm the product's timeline but did not hear back at the time of publication. Regardless, go enjoy ASAP.
3 Musketeers' new Birthday Cake Candy Bars come in two different types of packages. First, you can get a 2.14-ounce share size bar that comes with two 3 Musketeers Birthday Cake Candy Bars. It's called "share size," but, uh, I probably wouldn't share it with anyone. That's not due to lack of manners or anything, but I'm probably going to eat the entire candy bar myself. That's why 3 Musketeers also designed a Birthday Cake Miniatures Stand Up Pouch. It's 8.4 ounces and contains about 28 mini Birthday Cake Candy Bars, according to 3 Musketeers. This size is perfect for pouring in a bowl and leaving on your desk, or in a candy near your front door for people to grab and enjoy when they come over.
My birthday is in March, and hopefully, this candy bar will still be here then. I'm pretty sure I'm going to replace my usual triple-layer chocolate birthday cake with a bag of 3 Musketeers Birthday Cake Candy Bars. Is there a better way to ring in another birthday? I think not.