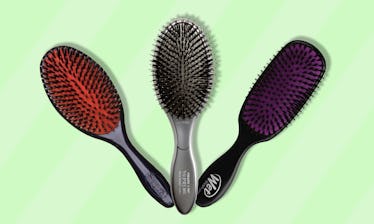 If You Can't Afford The $150 Mason Pearson Hair Brush, Try One Of These Under $30 Dupes
Amazon/Bustle
If you read or follow beauty blogs, you've likely come across rave reviews for the Mason Pearson hairbrush at some point. This prestige boar bristle brush is the gold standard in hairstyling — but that killer finishing power comes with a hefty price tag. And it's for that very reason that companies have begun churning out cheaper Mason Pearson dupes at a fraction of the cost.
The original Mason Pearson brush, which dates back to 1885, is such a cult-favorite because of its ability to minimize frizz and promote shine without disrupting your hair's natural pattern. It does this thanks in large part to the tightly-packed boar bristles that massage the natural oils from your scalp down through the rest of your hair shaft. The boar bristles also have a similar feel and structure to the rest of your hair, which makes them much gentler when it comes to detangling. But the main selling point for investing in this very pricey brush is that it'll literally last you a lifetime. Dupes might not last you as long, but they will be made similarly and accomplish many of the same things.
So without further ado, here are the three best Mason Person dupes on the market.