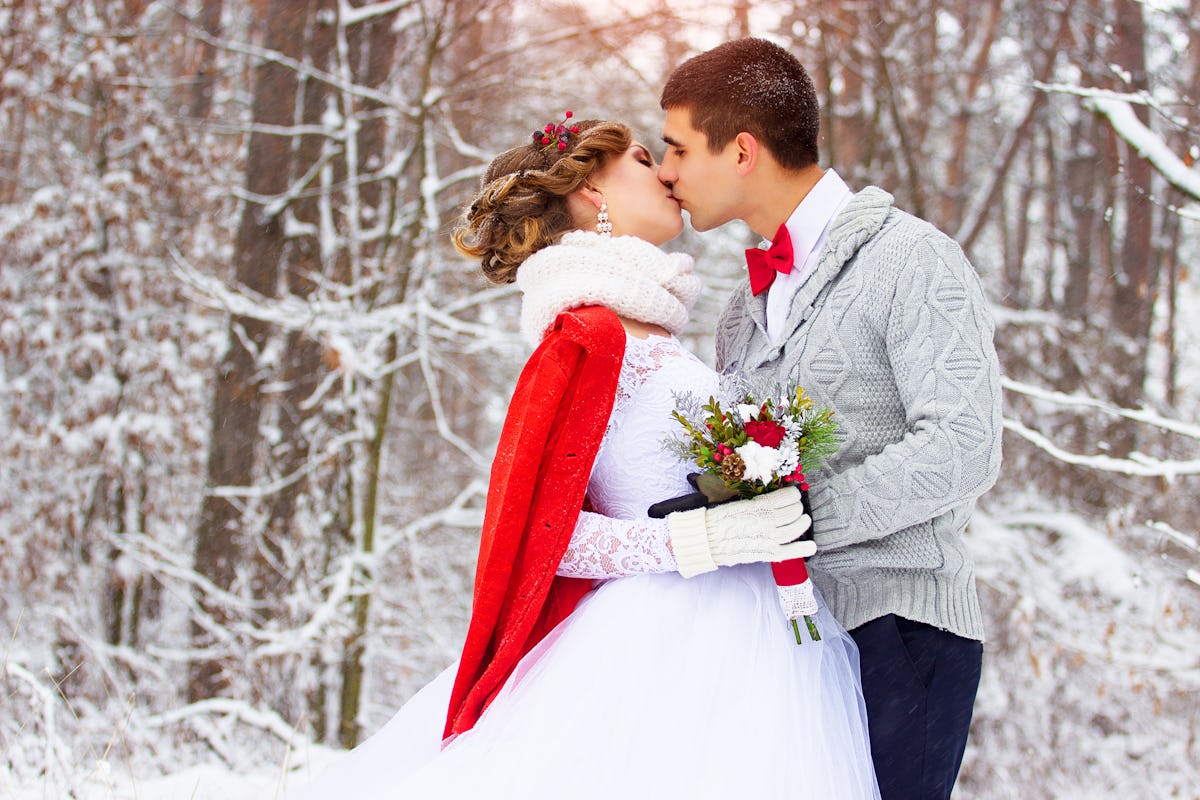 25 Enchanting Captions For Winter Weddings That'll Give You Chills, Literally
If you've ever had the pleasure of attending or having a winter wedding, you know that Mother Nature seemingly makes the moment so very special. And if snow happens to place itself on your guest list, it's immediately more magical. Not even our pictures can sum up that gorgeousness, and Instagram captions for winter weddings help, but only part of the enchantment is reflected.
Of course, that doesn't mean you have to let those beautiful pics lay dormant in your phone. With captions, you have to do the best you can to describe how amazing the entire experience was. Don't let people sleep on the breathtaking qualities of a winter wedding. No matter how slightly displeasing the cold can be, winter weddings are living proof that even icy temps complement love and union.
Beyond normal belief, temps aren't always a huge factor in deciding wedding dates. Some people actually appreciate all four seasons — go figure. Seriously, no matter what happens to be falling from the sky during winter, it's flattering when it finally lands on earth.
I mean, even if it was so cold that you were no longer wiping away tears, but icicles, a winter wedding seemingly freezes time and makes you appreciate the season that much more. If people can choose to give their special day to winter, then it really ain't so bad after all, is it? When you're done swooning over the miraculous winter wedding pictures, prepare to be even further in love when you pair them with any of these captions.
1. "If kisses were snowflakes, I'd send you a blizzard." — Unknown
2. "People don't notice whether it's winter or summer when they're happy." — Anton Chekhov
3. "Make it a December to remember." — Unknown
4. "You are summer to my winter heart." — Unknown
5. "Baby, it's cold outside." — Frank Loesser
6. "Some people are worth melting for." — Olaf in Frozen
7. "To appreciate the beauty of a snowflake, it is necessary to stand out in the cold." — Aristotle
8. "The first snow is like the first love. Do you remember your first snow?" — Lara Biyuts
9. "Winter is not a season, it's a celebration." — Anamika Mishra
10. "Winter is on my head, but eternal spring is in my heart." — Victor Hugo
11. "Cold hands, warm heart." — Proverb
12. "The cold never bothered me anyway." — Elsa from Frozen
13. "In the midst of winter, I found there was, within me, an invincible summer." — Albert Camus
14. "No winter is ever too cold if you have have enough love." — Unknown
15. "I love you because no two snowflakes are alike, and it is possible, if you stand tippy-toe, to walk between the raindrops." — Nikki Giovanni
16. "Well, I know now. I know a little more how much a simple thing like a snowfall can mean to a person." — Sylvia Plath
17. "With luck, it might even snow for us." — Haruki Murakami
18. "No snowflake ever falls in the wrong place." — Zen proverb
19. "I want your love to consume me like an oversized winter coat. Hands clasped around my waist like buttons done up properly." — Unknown
20. "Children of winter never grow old." — Anonymous
21. "Winter, a lingering season, is a time to gather golden moments, embark on a sentimental journey and enjoy every idle hour." — John Boswell
22. "Paradise doesn't have to be tropical." — Unknown
23. "Always believe that something magical is about to happen." — Unknown
24. "It's the most wonderful time of the year." — Edward Pola and George Wyle
25. "To have and to hold in case you get cold." — Unknown
Whether you're the one who's walking down the aisle or watching the magic happen, winter weddings have a way of making us feel extremely warm inside. It's the perfect time to hear or say, "I do."