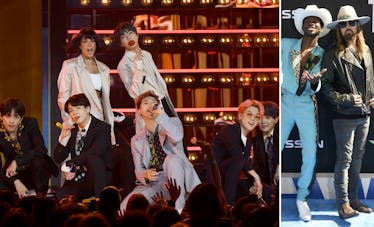 23 Random Musical Collaborations So Epic, They Changed The Game
Ethan Miller/Getty Images; Frazer Harrison/Getty Images
Is two really better than one? The classic saying often rings true when it comes to music, and some of the most iconic tracks to date have been collaborations. Britney and Madonna? Undeniably epic. Rihanna and Eminem? Iconic doesn't even cover it. And we can't forget about the time Nelly and Tim Mcgraw hit the studio together. That was definitely one of the more random musical collaborations, but now? It's considered a classic!
Perhaps what really makes a musical collaboration so great is the element of surprise. Sometimes a tune that has no business working out ends up being pure musical magic. I mean, a joint track between Katy Perry and Snoop Dog didn't sound like the best idea but "California Gurls" turned out to be the bop of all bops. More recently, genre-clashing collabs between K-Pop stars and top 40 artists have been hitting the scene. Like, Something just feels so right about Halsey's vocals blended with the guys from BTS.
While a solid solo smash is never a bad idea, there's nothing quite like seeing two of your favorite superstars team up to lay down a track. So, join us in recounting some of the most epic (and random) musical collaborations of all time. You can thank us later.