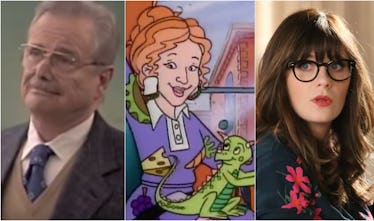 21 TV Teachers Who Would Make Going To Class Much More Interesting
ABC & Scholastic Entertainment & Fox
Even if you're not returning to school this September, a chill in the air and school bus sightings inevitably inspire thoughts of your childhood classrooms and the teachers running them. Nowadays, those back-to-school feels mark the end of beach trips and rooftop happy hours, so they can be particularly depressing for some people. If you need a motivational boost for the change in season, it's time to remind yourself of the TV teachers who truly ruled their schools.
Whether Mr. Feeny's final lesson makes you tear up or you prefer crushing on Max Medina from afar, teachers on TV range from the ideal to the unbelievable. Just like in the real world, the schools of TV have hit-or-miss records when it comes to hiring teachers, but they're packed with memorable mentors and plenty of their funny fails. Not every teacher has the ability to become that inspirational leader, but hopefully you've encountered at least one person who helps you relate to the TV characters who respect and admire their classroom leaders.
Found in cartoons, comedies, and dramas, TV teachers capture all the ups and down of the profession, and in many cases, never truly leave their students behind. Luckily, fans never have to leave the following teachers behind either.