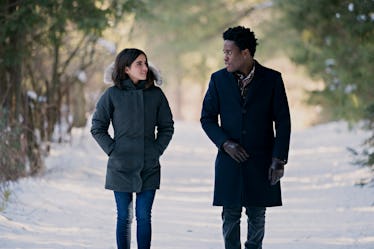 These 21 Moments From Netflix's 'Let It Snow' Are Too Pure For This World
Steve Wilkie/Netflix
It's beginning to look a whole lot like Christmas. All the signs of the season are here, including the new holiday movies that are popping up everywhere. One of the standouts so far of the 2019 holiday season is, Let It Snow. The new film dropped on Nov. 8, and ever since then, fans have been fawning over all the cute moments from Netflix's Let It Snow.
Warning: Spoilers for Let It Snow follow. Let It Snow chronicles one snowy Christmas Eve, when the lives of a bunch of small town teens intersect in sweet, funny ways. It's kind of like a YA version of Love Actually, but with even more heart-warming moments. In fact, fans on Twitter can't stop sharing just how adorable and cozy they think Let It Snow is.
One reason that so many people are excited about Let It Snow is that it features so many different types of relationships. The movie truly has everything you could want in a heartfelt holiday movie. From positive LGBTQ representation to supportive family dynamics, Let It Snow showcases all kinds of love. It's exactly the kind of feel-good movie that's perfect for the holidays, and this list includes all the too-pure moments that will get you in the holiday spirit.