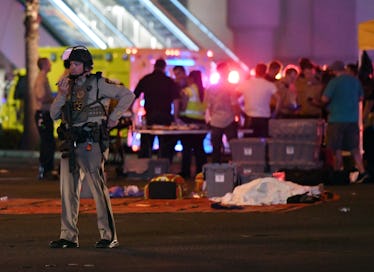 2017 Mass Shootings Are At A Near-Record High & It's Time For Change
Ethan Miller/Getty Images News/Getty Images
On Sunday, Oct. 1 around 10 p.m. PST, a gunman opened fire from a room at the Mandalay Resort and Casino in Las Vegas, killing more than 50 people and injuring more than 400. The mass shooting took place during the three-day Route 91 Harvest festival, while country singer Jason Aldean was performing. Police say this shooting on Sunday night is the deadliest in modern United States history, according to NBC News. In the United States, there have been 273 mass shootings in 2017, and it's time for change.
UPDATE: Authorities confirm at least 58 people died and 515 were injured in the shooting. The shooter has been identified as a Nevada local, he was fatally shot, and this is not believed to be connected to terrorism.
EARLIER: Last night's heartbreaking scene is circulating the internet. People across the globe are posting, sharing, and sending in donations to show their support for the victims and their families. One emotional witness told ABC,
One young man passed away as we were carrying him out … We had him in the ambulance, we were loading him in the ambulance and the guy said 'let's set him down here,' So, I set him down with myself and the young man passed away … It's been a tough night … So many people died and are wounded. It's very sad … I'm glad some people are safe and it's a terrible tragedy. I don't know what other words you could use for it.
With more than 50 people reported dead, the mass shooting in Las Vegas is now considered the deadliest attack in the U.S. It surpasses the Pulse nightclub shooting in 2016 (49 killed), Virginia Tech tragedy in 2007 (32 killed), and the Sandy Hook Elementary School terror in 2012 (28 killed).
As mentioned, this year alone, the United States has faced more than 270 mass shootings. A "mass shooting" is described by the Gun Violence Archive as the killing of more than four individuals at the same time and location. It's important to keep in mind we are only 275 days into 2017 — a chilling realization that there has almost been one mass shooting per day this year. With so many innocent lives taken, it's clearly time for a change when it comes to common sense gun control laws.
To express your beliefs on gun control, it's become vital to find a way to contact your congressional representative. In order to send an email, find your representative through this database of congressional reps and express your concerns. If handwriting a personal letter is more your style, pick up a pen and paper and write to your Congressional representatives to speak your mind on gun control laws.
A huge outcry for gun violence reform has hit Twitter in the wake of the shooting.
"Appalled by the senseless loss of life in Las Vegas. Jill and I hold all those affected and grieving in our hearts," former Vice President Joe Biden tweeted. "How long do we let gun violence tear families apart? Enough. Congress & the WH should act now to save lives. There's no excuse for inaction."
"Today is the 275th day of 2017. We've had 273 mass shootings so far. WE MUST ADDRESS GUN VIOLENCE IN AMERICA."
"273 mass shootings in 275 days. If it's 'too soon' to talk about #guncontrol after every one, the conversation will never happen."
"In our country, we no longer ask 'why' but 'when...' Gun violence has become an epidemic. 273 mass shootings in the U.S. in 275 days."
These events take a toll on the physical, mental, and emotional health of the nation. Mental Health America tweeted "If you are overwhelmed by what's happened or need someone to talk to, please call @800263TALK at 1-800-273-8255 or text MHA to 741-741."
Hopefully, the horrific violence in Las Vegas can bring real change to end these shootings.