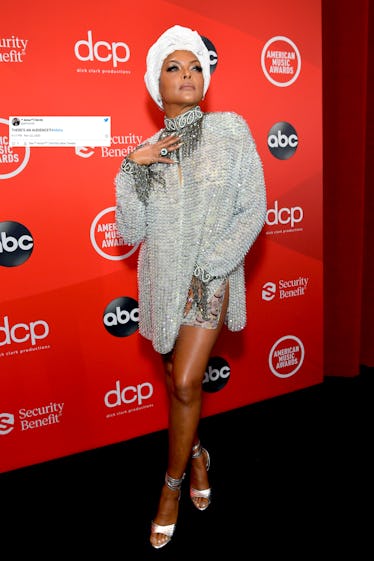 People Are REALLY Confused By The American Music Awards' Audience Situation
Emma McIntyre /AMA2020/Getty Images Entertainment/Getty Images/Twitter
Awards shows are looking a little bit different in 2020, and with good reason. As coronavirus numbers continue to increase in many states across the U.S., most televised awards ceremonies have opted for a completely virtual audience. So, when the American Music Awards kicked off on Nov. 22 with real people in the audience, many fans were confused. These 20 tweets about the 2020 American Music Awards' audience are filled with questions.
Even before the show kicked off, Vulture reported one day earlier that there would indeed be a live audience at the show. While they didn't specify what protective measures would be in place for attendees, they did say all staff members of the AMAs had received COVID tests ahead of the show.
Thankfully, the night's host, Taraji P. Henson, further clarified the situation. According to her, they took the utmost caution to make the night safe for everyone, and the people in the audience were in small groups from the same family and socially distanced.
Still, that didn't bode well with many people on Twitter who thought producers should have taken notes from the MTV VMAs, which replaced a live audience with clapping audio.
You can see some of the most heated tweets below:
As you can see, there were a lot of questions about what was happening with the AMAs audience, and many fans pointed out there were also cardboard cutouts in the seats.
Fans really weren't feeling the idea of an in-person audience.
The music industry is still trying to navigate through the current pandemic and while socially distanced audiences and drive-in concerts have been solid solutions so far, many still think it's too soon for either. Regardless of what happens in the AMAs audience this year, the stacked lineup on stage won't disappoint.