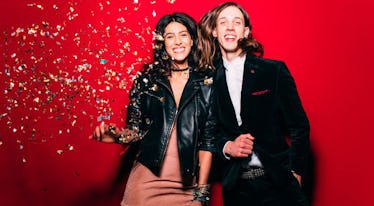 20 Unbe-leaf-ably Cute Texts To Ask Someone To Be Your Fall Formal Date
It's the most gourd-geous time of the year. The temperatures are cool enough to wear your cute new sweaters, but not so cold you need to wear four layers, gloves, a beanie, and a wool scarf. Everything smells like sweet cinnamon and pumpkin spice, the leaves are changing from their typical greens to oranges, yellows, and reds, and there are all sorts of events happening: fall festivals, apple picking, pumpkin patches, and of course, fall formals. With #formalszn approaching, you might be trying to brainstorm some texts to ask someone to be your fall formal date, in true autumn fashion. You've given the "Who should I take to formal?" question way too much time in your brain for the past semester, and now that you've settled on an answer, it's time to actually work up the courage to ask. You're excited for formal, pumped at the idea of having a great time with your might-be date, and already looking forward to your cute outfit. But first, they have to say yes.
The fact of the matter is, going up to someone and asking them to be your date to formal can be really hard. It's nerve-wracking sometimes! Thankfully, a simple text to the cutie you've had your eye on can be easier than approaching them IRL, and there's nothing wrong with that. If it's easier on you than asking IRL, text away! Here are 20 cute, punny texts you can send to your possible fall formal date.
1. Hay there, boo-tiful! I feel like you'd be a great fall formal date. Want to come with?
2. Will you be my pump-king at fall formal?
3. Spice things up with me at formal this weekend?
4. Don't leaf me hanging this weekend. Will you be my fall formal date?
5. Will you be my date this Friday? If you don't have an unbe-leaf-able time, PSLs on me for a week.
6. I'm fall-ing for you, be my date this weekend?
7. Hello, gourd-geous. Grace me with your presence at formal this weekend?
8. Be my date for formal? Let's give 'em pumpkin to talk about.
9. Make me as happy as a witch in a broom factory by being my date for formal this weekend?
10. Double, double, toil and trouble; Fire burn and cauldron bubble. Be my date to formal?
11. You're the cutest pumpkin in the patch, will you be my date to formal?
12. Let's have our apple-y ever after this weekend at formal.
13. I promise not to put a spell on you if you come with me to fall formal.
14. Beleaf me, formal's going to be a great time. Care to come with?
15. I have a feeling I'm going to leaf you smiling. Guess you'll have to join me at formal and see for yourself.
16. I only have pies for you, pumpkin. Be my date this weekend?
17. Orange you pumped to be my date to fall formal?
18. Make my life gourd, come with me to formal this weekend.
19. I'm more than pine with you coming to my fall formal with me!
20. It would be wicked awesome if you joined me for formal this weekend.
So, with formal coming up during this boo-tiful peak of fall, don't hesitate to ask that cutie in your chemistry class to be your date. You want to make fall formal the best it can be, so don't be afraid to ask exactly who you want to go with. The worst that can happen is they say no, and then you just move on to someone who would kill to have you on their arm! Happy fall, y'all!