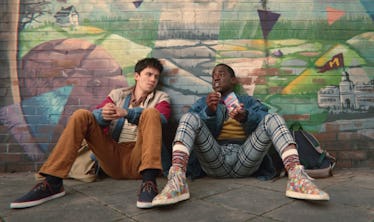 These 'Sex Education' Behind-The-Scenes Facts Will Inspire A Rewatch ASAP
Netflix
Fans might think they know a lot about the teens of Moordale Secondary School, especially since they get up-close-and-personal looks into their intimate lives. But there are always a few juicy backstage details viewers don't get to see while watching their favorite shows. These Sex Education behind-the-scenes facts provide an insightful look into the development of the series, and will probably make you love it more than you already do.
After Season 1 of the hit show premiered on January 11, 2019, it quickly became one of Netflix's standout successes. The streamer renewed the show for a second season, which was released on January 17, 2020.Much to fans' joy, the show has since been renewed for Season 3 as well, which will likely air in January 2021, if it sticks with the same schedule as before.
Fans have enjoyed watching the students of Moordale explore high school life and their blossoming sexualities on the show. And as Season 3 likely won't come out for some time, many are desperate for some more Sex Education content to hold them over in the meantime. So, here are some facts to help you stick it out until more episodes come to bless viewers' screens.