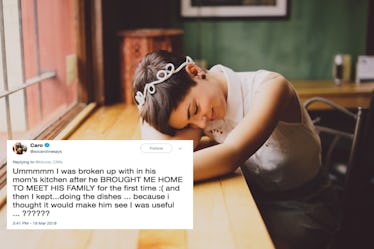 People Are Tweeting The Most Embarrassing Things They've Done For Love & OMG
Love, in its purest form, makes people do weird things. While some of us get better at masking them with age, we all have those undeniable urges to do weird things we would never normally do in the name of love. For example, when I was in high school, I chugged a Smirnoff Ice then proceeded to throw up on the beach for two hours all in an ill-fated attempted to prove to my crush I was a cool girl who liked to party. Now, a Twitter thread asking for the most embarrassing things people have done for love proves that none of us is alone in the embarrassing things we've done to impress our crushes.
In fact, I think I could safely bet that for every embarrassing story you have, there's one here that will make it pale in comparison. Yeah, trust me. From a girl stealing (and then proceeding to lose all of) her crush's family photos so that she could make photocopies of them for herself, to a person braving a snow storm to respond to their ex's booty call, to my personal favorite, a girl buying her crush flowers and then having him proceed to eat them, these stories will leave you feeling like an all-star player with airtight game.