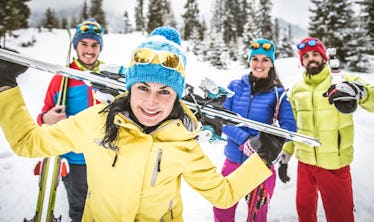 20 Captions For Your Ski & Snowboard Trip With The Crew
Winter is going to be here for a bit, so we might as well make the most of it. If that means getting cozy and creative with the cold elements, along with our crew, then so be it. Hitting the slopes couldn't be any more fun, and finding Instagram captions for skiing and snowboarding should be a total breeze.
From your cute as hell beanie to your fly snowboard, the whole situation is incredibly picture perfect. Although snow can be a tad overrated when you have to drive and try to get to work in it, it's a completely different ball game when you're enjoying it with your crew who's ultimately down for anything. They're enough to make you forget the cold and enjoy the time outside together.
If you all are enjoying more than just a day in the snow, even better. You can spend all day snapping those cute snow pics and then warm back up in your cabin by the fire. Impromptu snowball fights are fair game as well. Now, don't forget that those incredible pics can stand on their own, but a little extra touch from a dope caption will most certainly secure those likes from your followers.
1. "Paradise doesn't have to be tropical." — Unknown
2. "The mountains are calling and I must go." — Unknown
3. "Getting out there, riding with your friends, and having a good time is what it's all about." — Unknown
4. "There are no rules in snowboarding." — Amy Purdy
5. "I'm just a regular girl who likes to go snowboarding and picks her nose like anybody else. I just like to drive into things and take risks." — Cameron Richardson
6. "The pain won't last, but the memories will." — Unknown
7. "Wherever it is you may be, it is your friends who make your world." — Chris Bradford
8. "Snow happens whether you like it or not." — Unknown
9. "I wouldn't even call snowboarding a sport. For me it's a way of life. It's a chance to finally shut your brain off, and live within the moment. And, for as long as I am able, I will ride until the day I die." — Travis Rice
10. "If it wasn't hard, everyone would do it. It's the hard that makes it great." — Tom Hanks
11. "Close to heaven. Down to earth." — Unknown
12. "You can't buy happiness, but you can buy a lift pass." — Unknown
13. "The attraction of snowboarding is the freedom it gives you. With a snowboard on your feet the sky is the limit. You can do anything and go anywhere. This is not just for pro riders. It is for everyone." — Jeremy Jones
14. "When you think about it, we're strapping strange planks of wood to our feet and launching off of giant snow walls. It's pretty intense." — Shaun White
15. "Some people attach snowboards to their feet, very few attach them to their souls." — Shaun White
16. "The mountains are our home." — Unknown
17. "There's no blueprint to snowboarding, you know? You can really make your own mark." — Sage Kotsenburg
18. "A pair of skis are the ultimate transportation to freedom." — Warren Miller
19. "When it comes down to it, it's pretty simple. Adventure is what you make it. And whether it's the travel, the discovery or just the feeling of letting go, the only way we'll ever find out is to get out there and do it. Enjoy the ride." — Travis Rice
20. "Be around people that make you want to be a better person, who make you feel good, make you laugh, and remind you what's important in life." — Germany Kent
In most situations, facing the cold is a tad miserable. When you're hitting the slopes with your crew, being with them is really all that matters.