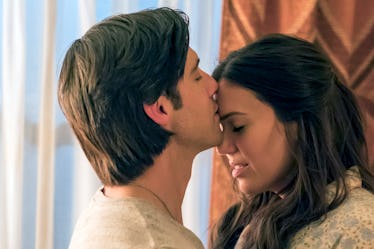 20 Family Drama Movies To Hold You Over Until 'This Is Us' Season 4
Ron Batzdorff/NBC
There's no better way to take a break from your own family tension than spending an hour watching This Is Us and crying over someone else's drama. The multi-generational, time-traveling NBC series returns for its fourth season in September, and even the guarantee of two additional seasons following the upcoming one isn't enough to keep me entertained until reuniting with the Pearsons. Luckily, if you feel the same, there are plenty of family drama movies to hold you over until This Is Us Season 4 premieres.
Whether it is featuring a stirring fatherly speech or a heartfelt family car ride, This Is Us elevates everyday elements that most viewers probably see as dull and ordinary into uplifting, often heartbreaking content. Since its 2016 debut, the hit NBC series has caused fans' waterworks over Jack Pearson's (Milo Ventimiglia) premature death, his wife Rebecca (Mandy Moore) talking to her unborn babies, and their grown children delivering hefty monologues about the trials of adulthood. Guaranteed to release at least six seasons in total, the show is the TV equivalent of sharing a trusty warm blanket with a beloved family member.
Seeing as This Is Us expertly balances humor and heartache, any tears shed during episodes feel worth it. But in telling a singular story, movies exploring family drama often inspire a more complicated range of emotions. If you're on the lookout for a movie that amplifies the This Is Us effect, check out the picks below.