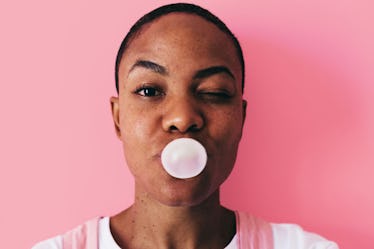 20 Clever Captions For Your Junior Year, Because #TimeFlies
Junior year of college is a lot like being the middle man on campus. You're not a freshman just getting started, or a senior wrapping up these golden years. You're so close to the finish line you can almost taste it, and you're far from asking where the building to your 8 a.m. class is located. It's a funny college year to be in, so clever captions for junior year should accompany your first day of school pics with your besties. (Although, this is your third year having another first day of school in college, so you got this.)
You ask yourself a lot of questions throughout junior year. Like, what if I chose the wrong major? Or, am I even ready to be out in the real world after next year? You're practically a veteran of the college life, which is why those post-grad questions start to flow.
On a lighter note, you know exactly where you like to get your coffee in the a.m. You know all of the campus freebies and events that usually supply you with food, and are totally here for them. You sort of have it made this year, even if you aren't graduating quite yet. You might as well laugh at your current situation as a junior and pair any of these 20 captions with pics of you at your favorite spot on campus.
1. "Graduation is so close, yet so far. #juniorlife" — Unknown
2. "Keep calm and get through your junior year." — Unknown
3. "Today was good. Today was fun. Tomorrow is another one." — Dr.Seuss
4. "Just send my report card to my senior self." — Unknown
5. "Sorry for what I said when I was a junior." — Unknown
6. "We don't stop going to school when we graduate." — Carol Burnett
7. "Hey, are we there yet?" — Every Junior
8. "The dream is free. The hustle is sold separately." — Unknown
9. "Better days are coming. They are called Saturday and Sunday." — Unknown
10. "As a college student, my favorite words are 'free' and 'canceled'." — Unknown
11. "I'm going to need graduation to put a pep in its step." — Unknown
12. "I know I'm supposed to wait my turn, but I'm ready RN!" — Unknown
13. "Junior year is like the Thursday night of college. It's the beginning of the end." — Unknown
14. "That moment when you realize that you are nothing like your freshman self." — Unknown
15. "The real test is getting through junior year without wishing you were a senior every waking second." — Unknown
16. "I'm not new and I'm not leaving just yet. I'm a junior." — Unknown
17. "Let's just say that I am getting all of the campus freebies this year." — Unknown
18. "Yesterday, I was a freshman. Today, I woke up a junior. Maybe tomorrow I'll be a senior. #timeflies" — Unknown
19. "Wake me up when it's time to graduate or if we have a pop quiz." — Unknown
20. "When you're a junior, you'll wish you were a senior. When you're a senior, you'll want to press rewind." — Unknown
Embrace your junior year for what it is. You're a long way from where you started and so close to finishing.