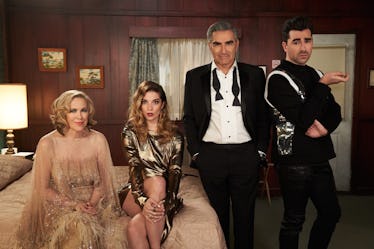 20 Books To Read If You Love 'Schitt's Creek'
Pop TV
The tale of how Schitt's Creek became a TV phenomenon reads like a modern-day Cinderella story. After years of airing unnoticed on the small-time Viacom network Pop TV, the series became a word-of-mouth streaming hit on Netflix. That meant most of the show's fandom came to the series by the time it was almost over. In many cases, fans only found it after the Season 6 finale. So with the series now complete, what are these fans supposed to do? These books like Schitt's Creek are perfect page-turners to keep the family feels going.
The irony of Schitt's Creek is that, despite how it unqiue it is, it's actually a very familiar genre, just not one seen as often on TV. Stories of hilariously dysfunctional families have dominated bookshelves since the early aughts, when Augusten Burroughs' 2002 novel Running With Scissors became a massive hit with readers.
Fans might not think there are many options for self-centered family comedies outside of shows like Shameless. But there are actually plenty of them to read at your local bookseller. From famous authors like Nora Ephron to ones readers may not be familiar with, this list rounds up 20 tales of families and relationships for Schitt's Creek viewers to enjoy.
We only include products that have been independently selected by Elite Daily's editorial team. However, we may receive a portion of sales if you purchase a product through a link in this article.