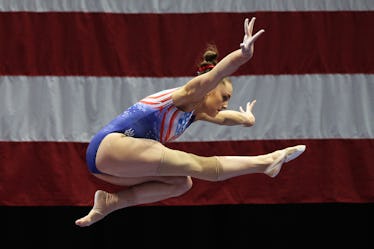 Read These Books About Gymnastics If You Can't Stop Thinking About 'Athlete A'
Netflix
Netflix's hit documentary Athlete A is a riveting look into how the Larry Nassar case rocked USA Gymnastics. But it's also a broader deep-dive into the beloved, but very clearly flawed, sport. After watching the film, you might be left wanting to know even more about the topic; luckily there are tons of books about gymnastics to provide further insight.
As Athlete A outlines, Larry Nassar is a former USA Gymnastics (USAG) national team doctor who started as a trainer for USAG in 1986 and worked his way up throughout the years. The sexual assault allegations leveled against Nassar first became public in 2016. Since then, more than 500 survivors have come forward about Nassar's pattern of sexual abuse, which reportedly dates back to 1992. In 2017, Nassar pleaded guilty to 10 charges of criminal sexual conduct and was sentenced to as many as 175 years in prison.
Nassar's case is considered the most massive sexual abuse scandal in any sport in history. In a statement about the scandal provided to Elite Daily via email on July 1, USAG says, "USA Gymnastics has fully cooperated with all investigatory bodies, and we will continue to cooperate. We are deeply committed to learning from the numerous independent investigations that have been conducted to date as we pursue meaningful change within our sport."
As much as Athlete A covered, there are still many more stories about the gymnastics world — both related to the sex abuse scandal and outside of it — to learn about. Here are some books to read once you've finished the documentary and want to continue your education.