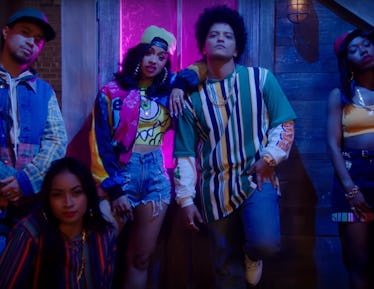 2 DIY Bruno Mars & Cardi B "Finesse" Costumes To Have You Dripping In Cool On Halloween
With their music video for "Finesse", Bruno Mars and Cardi B truly inspired their fans to delve back into 90s fashion. And while some of you may be reluctant to travel back in time and live In Living Color (see what I did there?), there's no better time than right now to see if that style actually works for you. With Halloween quickly approaching, it's time to put together some 90s, In Living Color inspired outfits and be the best Bruno Mars or Cardi B you can possibly be. So, here are some DIY Bruno Mars and Cardi B "Finesse" costumes to make you look like a superstar.
If you've seen the video for "Finesse", which I'm sure you have (because what rock are you living under if you haven't?), then you know that Cardi and Mars' style is all about color. For Halloween, you'll definitely want to make your costume pop with lots of color and a bit of personality.
In the video, Cardi is wearing quite a colorful combination that's bright, fun, and full of life. She's wearing a jacket, cutoff denim shorts, large hoop earrings, and a yellow hat. If you're into the idea of going to your local Halloween party as Cardi, then this little outfit is really easy to put together. Here's what you need:
Cropped Animaniacs Graphic Tee, $14.90, Forever 21
This Animaniacs graphic tee is similar to what Cardi is wearing in the video and will give your costume a unique flair!
Multicolor Random Portrait Painting Print Bomber Jacket, $15.59, ROMWE
While this jacket isn't an exact match for Cardi's, it has lots of color and will certainly make you stand out.
Distressed Denim Shorts, $24.90, Forever 21
Cardi's distressed denim shorts in the video are very similar to these. When Halloween's over, you can pack these away for the summer and still get some good use out of them.
And to accessorize the outfit, try these:
Let's Link Up Earrings - Gold, $9.99, Fashion Nova
Men Faux Suede Baseball Cap, $3.99, Forever 21
If you're looking to dress as Bruno Mars for Halloween, then your outfit will be pretty simple as well. In the "Finesse" video, Mars is wearing a striped, long-sleeved hoodie that's straight out of the early 90s. He's also wearing jeans and sneakers, so it's a fairly straightforward costume. Check out these items down below to know what you need to complete your costume:
Multicolor Striped Hoodie, $22.90, Forever 21
Mars took everybody way back with his green striped hoodie in the "Finesse" video. And now it's your turn to do the same with this hoodie from Forever 21.
Slim Fit Jeans, $19.90, Forever 21
Along with the hoodie above, these slim fit jeans will definitely give you that Bruno Mars look you're going for. Add a pair of sneakers to the mix and you're all set!
These are only suggestions, of course, and you can dress up your Cardi B and Bruno Mars costumes however you'd like. Whatever you decide to do, just make sure you're the life of the party!