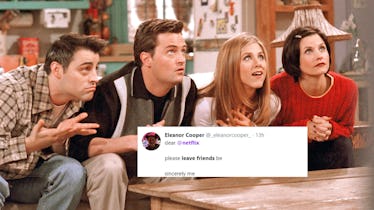 15 Tweets About 'Friends' Leaving Netflix That Will Wreck You – UPDATE
NBC
Hold onto your coffee cups, folks. Netflix has dropped the bombshell that on Jan. 1, 2019, Friends will officially leave the streaming service. The beloved sitcom has had a home in Netflix's streaming library since January 2015, but all good things must come to an end. With fewer people having physical TVs and cable packages nowadays, Netflix has left hundreds of Friends fans distraught about its impending departure. These tweets about Friends leaving Netflix capture some intense feels about the news, but some also remind us that we have other watching options out there.
UPDATE: Netflix's chief content officer Ted Sarandos reportedly told The Hollywood Reporter that 'Friends' is not leaving the streaming service. Elite Daily reached out to Netflix for comment, but did not hear back by the time of publication.
EARLIER: Since it first appeared on Netflix in 2015, Friends has introduced itself to a new generation of fans and gotten reacquainted with longtime viewers. Although its intense popularity always seemed to dismiss the possibility that the series could leave the service, we've learned in the past that being in demand doesn't necessarily keep a show on Netflix forever. At the end of the day, what comes and goes is a business deal, and Friends is no exception. In early December, Netflix sneakily slapped a New Year's Day expiration date on Friends' page, leading to reports that the full series will soon appear on the streaming platform that WarnerMedia plans to launch in late 2019. Although the service will reportedly focus more on movies, one of its package options combines its other movie and original programming selections with "content...[including] an extensive library of WarnerMedia and licensed content."
Even with the likelihood of the comedy streaming via a new service, fans on Twitter aren't coping well with this Friends deadline. Has anyone greeted their friends with one of Ross's depressed hellos yet?
When shows leave one streaming service, they usually appear on another, and such was the case with Friends successor How I Met Your Mother, which appeared on Hulu after leaving Netflix in 2017. But with Friends seemingly waiting nearly a year until it joins a brand-new service, the future looks bleak for young people who are used to watching TV on their computer screens. To be fair, not much else can lull me to sleep like the comforting, familiar dialogue of the Friends gang at Central Perk.
However, older fans of the series have kept calm, and their advice on dealing with this loss is definitely worth a listen. One Twitter user points out that the cable channel TBS airs several Friends episodes nearly every day. Other Friends-watching veterans wrote about relying heavily on their DVD box sets even after the comedy hit Netflix.
Although they might not be the most convenient options, taping the daily marathons or investing in a few season DVDs are more than helpful in giving you your Friends fix. After all, Christmas is coming up soon! Slide that series box set into your mom's Amazon cart and throw in a Central Perk mug or gold picture frame while you're at it.
Friends is streaming on Netflix until Tuesday, Jan. 1, 2019.