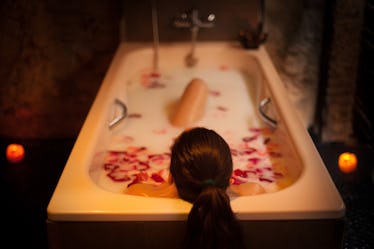 If Your Date Was A Straight Up Jerk To You, Here's What 15 Women Do To Feel Better
There are plenty of ways to deal after your date was a total jerk. You could go the more self-destructive route and turn to impulsive actions (i.e. angry texts and phone calls) to numb the pain of what just happened. But there are also other options! You could prioritize your own self-care in that moment and combat the sad feelings in a more positive way. For example, when one woman recently had to deal with a rude booty call who was just straight up rude to her, she turned to Reddit for some self-care activities when your date was a jerk that will put you in a better mood.
If you've been in a similar situation, then you know how painful that can feel. Remember, though, that the pain is only temporary, and that there are ways you can pamper yourself to help you feel better. Read along and take notes on these stellar suggestions from real women.