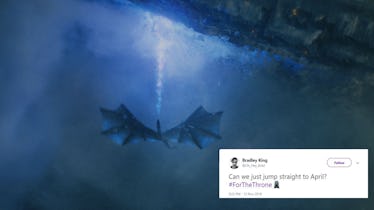 15 #ForTheThrone Tweets That Will Make You Want To Rewatch 'Game Of Thrones' ASAP
HBO
Game of Thrones Season 8 will premiere in April of 2019. HBO is going back to what worked for six seasons and counting. This not to say Season 7's brief summer fling was a not a success. The series grew their audience every single week throughout seven episodes. But for the finale, Game of Thrones will return to where it has sat on the calendar year since 2011. These #ForTheThrone tweets, based on the official hashtag released by HBO this week, show fans are rabid for the show's return.
To say this is the beginning of a full-court marketing blitz by the show feels a little bit like an understatement. Not only did the production release a teaser video with zero new footage to announce the month the show was coming back, but HBO also released no less than 14 photos branded with the #ForTheThrone hashtag, each of which was one of the indelible images from over the last seven seasons.
For those who plan to start their great Game of Thrones rewatch come 2019 in anticipation of the final season, this is the hashtag where everyone will meet up to discuss it.
And HBO clearly wants everyone to rewatch, as Seasons 1 -7 are now available for streaming to anyone with access to HBO. Though there is no official watch-along yet, fans can assume one is coming, most likely starting about 67 days before the premiere.
Fans were, of course, just a touch excited, even if they didn't have an exact date yet. (There are only four Sundays in April where the show could premiere, so really, HBO's narrowed it down a good bit with this announcement.)
The fact is there is only one show that matters, and it is only five months away.
Some said seeing their favorite moments in the video wasn't an emotional time. They were lying. (Though, perhaps, there would have been even more tears had there been any new footage included.)
Some pulled back all the way to the first season and the most memorable quotes from over the years.
Not to mention memorable moments of violence.
And memorable moments of terror.
Others considered this a perfect moment for a public service announcement.
But most fans took this as a time to remember their favorite characters of yore.
And to pray those who have survived thus far make it to dream of spring.
Of course, there are always jokes and memes.
But the truth is, Game Of Thrones isn't the only thing ending in 2019. For some, it was a moment to take a breath and realize how many fandoms are going to experience all the feels this spring.
(Or just in 2019 in general.)
Here are all the #ForThe Thrones posters HBO released today, for those who haven't seen them yet.
Game of Thrones Season 8, the final six episodes of the series, will premiere in April of 2019.